Wizards forward Davis Bertans has decided to sit out when the NBA resumes its season next month, according to Adrian Wojnarowski and Tim Bontemps of ESPN (via Twitter).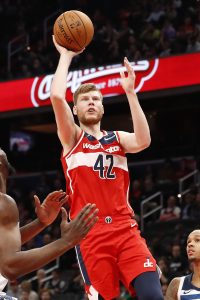 As Wojnarowski notes, Bertans has suffered a pair of ACL injuries in the past and will be entering free agency this offseason on the heels of a career year. It's not clear whether Bertans has any additional safety concerns related to COVID-19, but if he suffers an injury this summer, it could diminish his value as he seeks a new contract in the coming months.
Of course, it's also worth noting that – with or without Bertans – the Wizards aren't exactly championship contenders. Already missing star point guard John Wall, Washington will enter the restart trailing the Magic for the No. 8 seed in the East by 5.5 games. In order to earn a playoff spot, the Wizards would have to gain at least two games on Orlando or Brooklyn during the eight seeding contests, then win two consecutive games in a play-in tournament.
According to Wojnarowski, the Wizards "fully support" Bertans' decision, which is viewed as a preventative measure. The veteran sharpshooter is still expected to participate in pre-Orlando training with the team, Woj adds.
Bertans, 27, averaged a career-best 15.4 PPG, 4.5 RPG, and 1.7 APG in 54 games (29.3 MPG) during his first season as a Wizard, making an impressive 42.4% of 8.7 three-point attempts per game. The Wizards, who turned down offers for Bertans at the trade deadline in February, view re-signing him as a top offseason priority, says Wojnarowski.
As for the short term, the Wizards will be eligible to sign a substitute player to replace Bertans in Orlando, without needing to open up a roster spot for that replacement. Once the franchise signs a substitute, Bertans would become ineligible to return this season.
Bertans will also forfeit 1/92.6th of his salary for each game he misses this summer — based on his $7MM salary for 2019/20, that would normally work out to about $605K for eight games. However, Bobby Marks of ESPN tweets that the actual figure will likely be close to $520K, since it will take into account previous reductions.
Photo courtesy of USA Today Sports Images.