Wizards star Bradley Beal won't participate in the NBA's restart this summer due to a right rotator cuff injury, the team announced today in a press release. According to the Wizards, the decision was made in "full consultation" with Wizards doctors, Beal, and the guard's representatives.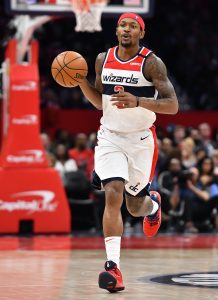 "Bradley did everything possible to be ready to play, but after closely monitoring his individual workouts we came to the conclusion that it was best for him to sit out the upcoming games in Orlando and avoid the risk of further injury," Wizards GM Tommy Sheppard said in a statement.
"Although he was able to play through the majority of the season with the injury, the layoff from March until now did not leave any of us feeling comfortable that he would have enough time to be ready to perform at the extremely high level we are all accustomed to seeing and agreed that not participating in the games in Orlando was the right decision."
The Wizards' announcement indicates that Beal first experienced discomfort in his right shoulder early in the 2019/20 season and managed the issue throughout the year before it worsened during the hiatus. He won't travel with the team to Orlando as he continues his rehab process through the summer.
Since today's announcement suggests Beal is being ruled out of the restart due to an injury rather than voluntarily opting out, he presumably won't have to forfeit his remaining salary for 2019/20. It also means Washington won't be able to sign a substitute player to replace him on the roster.
Previously, the Wizards signed Jerian Grant to replace Davis Bertans, who chose to opt out of the restart due to his upcoming free agency and a history of ACL injuries. However, players who are sidelined due to injuries aren't eligible to be replaced by a substitute player. That applies not only to Beal but to fellow All-Star guard John Wall, who continues to recover from his Achilles tear.
While the 24-40 Wizards still technically have a shot at the postseason this summer, they're 5.5 games back of Orlando and six games back of Brooklyn. They'd have to make up at least two games on one of those teams to force a play-in tournament, then win two consecutive games against the Magic or Nets to earn the No. 8 seed. That seems like a long shot without Beal, Wall, or Bertans available, and it seems clear the club is focusing more on 2020/21 than this season.
"This was a difficult decision and one that I did not take lightly as the leader of this team," Beal said today in a statement of his own. "I wanted to help my teammates compete for a playoff spot in Orlando, but also understand that this will be best for all of us in the long term. I appreciate the support of my teammates, the fans and the entire organization and look forward to returning next season to continue the progress we have made."
The Wizards' eight seeding games in Orlando will be against the Suns, Nets, Pacers, Sixers, Pelicans, Thunder, Bucks, and Celtics. Each of those teams figures to be more heavily favored against Washington now that Beal is out of the picture.
Photo courtesy of USA Today Sports Images.