Nets team doctors have decided to have Spencer Dinwiddie sit out of the NBA's restart, sources tell Shams Charania of The Athletic (Twitter link). The decision is being made out of an "abundance of caution," Charania adds, as Dinwiddie recently tested positive for the coronavirus. The Brooklyn guard has confirmed the news in a tweet.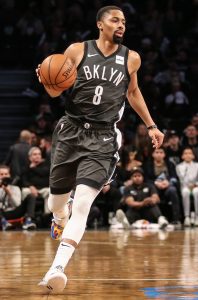 "After another positive test yesterday and considering the symptoms, @BrooklynNets, team doctors and I have decided that it would be in the best interest for me and the team that I do not play in Orlando," Dinwiddie wrote. "I will be supporting the guys every step of the way!"
Word broke on June 29 that Dinwiddie has been diagnosed with COVID-19. On Sunday night, he said that the sinus pressure headaches he had been getting were "starting to subside," expressing hope that he could receive medical clearance this week and travel to Orlando with the Nets. However, he admitted that he felt a bit dizzy and weak when using an exercise bike and still hadn't received the two negative tests he required as part of the NBA's protocol.
Even if Dinwiddie receives medical clearance in a few days, he'd have to travel to the Walt Disney World bubble separately from his team, which would mean being subjected to a more rigorous quarantine and testing period before being cleared to practice. He'd then have an even shorter ramp-up period than his teammates before seeding games begin on July 30, and may still be dealing with the after-effects of the virus.
As such, it makes sense that the Nets are holding out Dinwiddie, though it creates yet another hole in a roster that has been decimated by injuries, positive coronavirus tests, and opt-outs. Superstars Kevin Durant (Achilles) and Kyrie Irving (shoulder) won't participate. Nicolas Claxton (shoulder) is also injured, while Wilson Chandler has decided to sit out for family reasons and DeAndre Jordan opted out after contracting COVID-19.
The Nets, who currently hold the No. 7 seed in the Eastern Conference, may have a hard time holding off the Magic, who are just a half-game behind Brooklyn in the standings. However, the Nets remain in the driver's seat for a playoff spot, since they have a six-game lead on the Wizards, who have been hit hard by injuries and opt-outs of their own — the club will be without All-Star guards Bradley Beal and John Wall in addition to sharpshooter Davis Bertans.
Brooklyn has reportedly agreed to a deal with Justin Anderson to replace Chandler. Players who test positive for the coronavirus are also eligible to be replaced by substitute players, so the club will be able to sign replacements for both Dinwiddie and Jordan. Any player who is replaced by a substitute player will be ineligible to return this season.
Because Dinwiddie's absence is related to a positive COVID-19 test, he won't have to forfeit his remaining salary for the 2019/20 season.
Photo courtesy of USA Today Sports Images.