Hoops Rumors is previewing the 2020 offseason for all 30 NBA teams. We're looking at the key questions facing each club, as well as the roster decisions they'll have to make this fall. Today, we're focusing on the Detroit Pistons.

---
Salary Cap Outlook
Trading Andre Drummond at the February trade deadline ensured that the Pistons will be able to create some cap room this offseason.
The exact amount available will hinge on several factors, including how many non-guaranteed contracts and free agents the team wants to retain, where its lottery pick lands, and how much the league-wide salary cap increases, if at all.
However, even a fairly conservative estimate – which assumes no cap increase and Detroit retaining its non-guaranteed players and Christian Wood's cap hold – should comfortably get the Pistons to $25MM+ in space.
Our full salary cap preview for the Pistons can be found right here.
---
Roster Decisions To Watch
Options:
Non-Guaranteed Contracts:
Two-Way Contracts:
Free Agents:
---
2020 Draft Assets
First Round:
No. 5 overall pick (pending lottery results)
The Pistons have the fifth-best lottery odds, but their most likely pick is No. 7 (26.7%). They have a 10.5% chance at the No. 1 pick and a 42.1% chance at a top-four selection, with No. 6 (19.6%) and No. 8 (8.8%) also realistic possibilities. No. 5 (2.2%) and No. 9 (0.6%) are longer shots.
Second Round:
---
Three Key Offseason Questions
1. How much longer will Blake Griffin and Derrick Rose be Pistons?

Trading Drummond and buying out veteran point guard Reggie Jackson earlier this year signaled that the Pistons are entering a full-fledged rebuild. The hiring of Troy Weaver – a longtime member of the Oklahoma City front office who advocated for drafting Russell Westbrook back in 2008 and helped turn the Thunder into perennial contenders – suggests that the new general manager will get a chance to put his own stamp on the franchise as it accumulates talent.
With that in mind, it's hard to see how former No. 1 overall picks Griffin and Rose fit into the Pistons' plan going forward. Both players are 31 years old and have troublesome injury histories. Rose is entering a contract year, while Griffin has two years left on his deal. In other words, neither player seems all that likely to be part of the next Pistons playoff team.
That doesn't mean that Detroit will look to move them both this offseason though. Rose will certainly enter the fall as a trade candidate, but the Pistons decided not to trade him at the 2020 deadline despite receiving offers. It wouldn't be a shock if they rebuff interest again and wait until next year's trade deadline to seriously consider moving on from the former MVP.
As for Griffin, his value took a major hit following a lost 2019/20 season in which he was limited to 18 games due to knee problems. With $75.8MM owed to him over the next two years, Griffin is a negative trade asset, meaning it wouldn't be in the Pistons' best interests to pursue a deal at this point.
It makes far more sense for the team to be patient in the hopes that Griffin can bounce back in 2020/21, rebuilding his value and perhaps becoming a more viable trade chip before his contract expires in 2022.
If the right deal comes along, Weaver certainly won't hesitate to move both Rose and Griffin sooner rather than later. But if they don't get any offers they love, the Pistons shouldn't be in any rush to move the former All-Stars, whose veteran leadership could still be useful for a young team.
2. Is Luke Kennard a long-term keeper or a trade chip?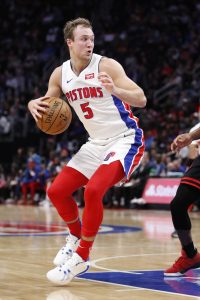 The 12th overall pick in the 2017 draft, Kennard is still just 24 years old and remains a year away from restricted free agency, with a very affordable $5.3MM cap hit for 2020/21. There's no reason he can't be part of the Pistons' rebuilding process if the team views him as a long-term contributor.
However, it remains to be seen how committed Detroit is to making Kennard a franchise building block. The young sharpshooter was the subject of trade rumors in February, with reports at the time suggesting that a proposed deal with the Suns was close to being completed, before it fell apart.
With Weaver now in the front office mix, it will be interesting to see which direction the Pistons go with Kennard, whose shooting ability and still-modest cap charge would make him an intriguing target for cost-conscious teams seeking three-point help in '20/21.
The former Duke standout will become eligible for a rookie scale extension this October, and engaging in exploratory talks on a new deal should give the Pistons a sense of how much it will cost to retain Kennard. If the team feels that money would be better spent elsewhere, it wouldn't be a surprise to hear Kennard's name resurface in trade rumors in the coming months. On the other hand, if the price is right, the two sides will be in good position to commit to a long-term union.
3. How much are the Pistons willing to pay to retain Christian Wood?

Kennard's extension isn't the most pressing contract decision the Pistons will have to make on one of their current players. Unlike Kennard, who remains under contract for one more year, Wood will become a free agent this October, and he'll be unrestricted, free to sign with any team.
Wood will hit the free agent market on the heels of a breakout year. His full-season stats (13.1 PPG, 6.3 RPG) don't tell the full story — after he entered the starting lineup following the Drummond trade, Wood recorded 22.8 PPG, 9.9 RPG, and 2.0 APG over his final 13 games. He also showed off an improved three-point shot, making 54-of-140 attempts (38.6%) on the season, despite having only attempted 42 threes prior to 2019/20.
Wood's impressive performance, his age (25 in September), and a weak 2020 free agent class will make him one of the fall's most attractive young UFA targets. However, a massive payday is no lock. His lack of track record could hurt him, and so will the fact that only a small handful of teams have cap room available. If those teams use their space elsewhere, Wood could have trouble finding an offer worth more than the mid-level from any team besides Detroit.
Recognizing that Wood's market might be limited, the Pistons will want to avoid overpaying to retain the big man, who – like Kennard – is young enough to be part of the team's rebuild.
With few long-term financial commitments on their books, the Pistons can comfortably afford to go up to the $15MM-per-year range for Wood, but if that doesn't get it done, the team may be wary about surrendering additional flexibility for a player with such a limited résumé (Wood had appeared in 51 total games for four teams before this season).
Information from Basketball Insiders and ESPN was used in the creation of this post. Photos courtesy of USA Today Sports Images.