Hoops Rumors is previewing the 2020 offseason for all 30 NBA teams. We're looking at the key questions facing each club, as well as the roster decisions they'll have to make this fall. Today, we're focusing on the Golden State Warriors.

---
Salary Cap Outlook
The Warriors won't have any cap room available in the 2020 offseason. In fact, adding the cap hit for a top-five draft pick to their already-pricey roster will easily put the Dubs in luxury tax territory.
Still, assuming team ownership remains willing to spend big, Golden State has some flexibility to add roster upgrades using the taxpayer mid-level exception (which should be worth at least $5.7MM) and a $17.2MM traded player exception.
Our full salary cap preview for the Warriors can be found right here.
---
Roster Decisions To Watch
Options:
Non-Guaranteed Contracts: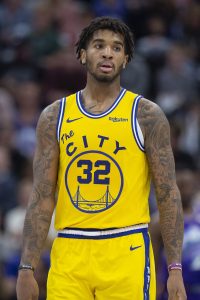 Two-Way Contracts:
Free Agents:
---
2020 Draft Assets
First Round:
No. 1 overall pick (pending lottery results)
The Warriors are tied for the most favorable lottery odds, with a 14.0% chance at the No. 1 overall pick and a 52.1% chance to receive a top-four selection. Because they had the NBA's worst record, they can't fall further than No. 5 (47.9%).
Second Round:
No. 48 overall pick
No. 51, 52, or 53 overall pick (pending tiebreaker)
The Warriors traded away their own second-round pick (No. 31), but acquired Dallas' and Utah's selections. The Jazz pick could end up anywhere from No. 51 to 53 depending on the results of a tiebreaker with Oklahoma City and Houston.
---
Three Key Offseason Questions
1. What will the Warriors do with their top-five draft pick?

If the Warriors were in a position to draft a potential generational talent such as Zion Williamson with their lottery pick this fall, there would be little doubt that they'd hang onto their first-rounder and simply plug that player into their lineup.
However, with no consensus on who should be the No. 1 pick in 2020 and no surefire superstars in this year's draft class, it might make more sense for the veteran team to shop its top-five pick and trade it to the highest bidder.
Just one year removed from their fifth consecutive NBA Finals appearance, the Warriors are well positioned to bounce back in a big way in 2020/21, with a healthy Stephen Curry and Klay Thompson back in the mix. The right deal could give Golden State the immediate upgrade necessary to once again enter the season as the championship frontrunner.
Unlike most clubs picking high in the lottery, the Warriors aren't in desperate need of an infusion of young talent. And with teams around the NBA potentially tightening their purse strings as a result of the coronavirus pandemic, acquiring a high-upside rookie on a cost-controlled four-year contract could hold significant appeal to a potential Warriors trade partner, increasing the Dubs' leverage in negotiations.
Still, there are compelling reasons for Golden State to considering keeping the pick. For one, the Warriors' stars are all now in their 30s — going all-in on veterans would mean risking having the franchise's window of contention close within the next few years. Adding a young building block could help eventually ease the transition from the Curry/Thompson/Draymond Green-era Warriors to the next generation.
It's also worth considering what exactly the Warriors could get back in a trade involving their lottery pick. When the Lakers landed the No. 4 pick in the 2019 lottery, it was a foregone conclusion that they'd use that pick as part of their offer for Anthony Davis. There are no superstars this fall who are locks to be on the trade block and who have conveyed a desire to play in the Bay Area. A top-five pick could net the Warriors a good return, but the opportunity to land a bona fide star may simply not be there this offseason.
Although I certainly expect the Warriors to explore a variety of trade options involving their lottery pick, it wouldn't surprise me if the team's approach to that selection is similar to the one it took with D'Angelo Russell. When Golden State acquired Russell in a sign-and-trade, it did so knowing he'd have enough value to eventually be flipped for an asset – or assets – that better complemented the current roster.
The Warriors could take the same path with their top pick, using it to draft a player while recognizing that that prospect could eventually headline an appealing package if the right veteran star reaches the trade market.
2. What will the Warriors do with their $17MM+ trade exception?

The Warriors' decision on trading their draft pick is complicated by the fact that they have a $17MM+ traded player exception that will expire if it's not used by October 24. The exception allows the team to acquire a player (or players) earning up to $17,285,185 without sending out any salary themselves. That ability could be extremely useful in any draft-day trade.
Most trade exceptions expire without being used, but this one – besides being unusually large – is also one of the only viable avenues for the Warriors to make a roster upgrade this fall. They project to be well over the tax line, meaning they'll have no cap room, no bi-annual exception, and will only have the taxpayer version of the mid-level exception. If they don't use this TPE, their flexibility to add talent will be limited.
That's not to say that the Warriors are obligated to use the exception. Adding salary to the roster will increase Golden State's tax bill exponentially. And while Joe Lacob and company have never been shy about spending big, we're in uncharted territory now, with no real sense of when fans might be allowed back in the Warriors' new arena. The revenues from the Chase Center were supposed to help offset the rising cost of the club's roster, but barring a major nationwide and statewide improvement on the handling of the coronavirus pandemic, the club won't be selling out its building anytime soon.
The Warriors will want to take advantage of Curry's and Thompson's prime years and aren't about to cut costs. But acquiring a player earning $17MM would likely increase the team's tax bill by three or four times that amount. Although there are some intriguing potential targets out there, guys like Evan Fournier, Will Barton, J.J. Redick, or Josh Richardson aren't exactly stars — increasing overall 2020/21 payroll by $50-80MM to land one of them might not be the best use of the organization's resources.
With that in mind, it's worth noting that using a $17MM trade exception to acquire a player earning $5MM – instead of $17MM – shouldn't be viewed as a wasted opportunity. If a lesser-priced player can provide similar production, it's the prudent move, even if it means not taking advantage of the full exception. As such, if the Warriors use their TPE, they may prioritize finding a bargain veteran or a player on a rookie contract who could be acquired without breaking the bank.
3. What's the plan for Andrew Wiggins?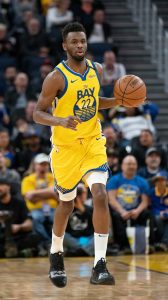 The cleanest way for the Warriors to avoid an astronomical tax bill while still making some changes to their roster would be to trade Wiggins. Of the four Warriors players earning more than $22MM in 2020/21, he's the most expendable, having not been part of their championship teams.
But Wiggins still doesn't have positive trade value at this point. When he was dealt to Golden State for Russell, there was plenty of talk about how playing on the wing alongside Curry, Thompson, and Green would be an ideal situation for the former No. 1 pick, giving him a chance to rebuild his value as a complementary option rather than a go-to guy. However, we haven't actually seen whether that forecast will come to fruition, in part because he hasn't had a chance to play with the team's three stars yet.
In the limited action he did see for the Warriors, Wiggins didn't look all that different from the player we saw in Minnesota. He can score, but not especially efficiently. And the team was worse defensively when he was on the court than when he sat.
With three years and $94.7MM left on his contract, Wiggins still has to take significant strides before he can realistically be considered a positive trade asset. That means it probably doesn't make much sense for Golden State to try to move him this offseason.
If the team legitimately believes that Wiggins will thrive in his new role, it should give him a chance to do so. If it works, Warriors management can decide at that point whether it makes more sense to keep him in that role or to revisit the trade market with a more appealing asset in hand.
Information from Basketball Insiders and ESPN was used in the creation of this post. Photos courtesy of USA Today Sports Images.