Throughout the season, Hoops Rumors takes a closer look at players who will be free agents or could become free agents this off-season. With the seeding games winding down at the Orlando campus, it's time to examine if their stock is rising or falling due to performance and other factors.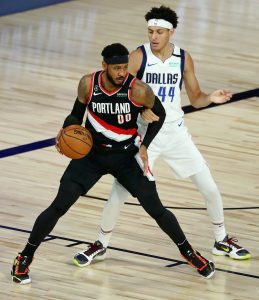 Carmelo Anthony, Trail Blazers, 36, PF (Up) – Signed to a one-year, $2.16MM deal in 2019
Remember when Anthony's reps were practically begging teams to give their client one more chance to play in the league? Carmelo took advantage of his opportunity with the Trail Blazers, finally accepting his new status as a role player instead of being the No. 1 offensive option. He's turned it up a notch in Orlando during the Blazers' run to the play-in round. The slimmed-down Anthony has reached the 20-point mark four times in eight games and made 46.9% of his 3s, while also being a factor on the boards (6.9 RPG). He won't have to lobby for another contract after this season, nor will he have to accept the veteran's minimum again.
Brandon Ingram, Pelicans, 22, SF (Down) – Signed to a four-year, $23.8MM deal in 2016
It's not that Ingram was terrible in Orlando. It's just that the Pelicans stunk up the joint and the stench clung to everyone involved. Following a breakout season which earned him an All-Star selection, Ingram was unable to carry his team into the play-in round. New Orleans' poor performances left everyone wondering whether the roster should be reshaped, especially with the front office owning a boatload of draft picks. And Zion Williamson isn't going anywhere. So while Ingram will still get rewarded handsomely in restricted free agency, is he worth franchise-player type money? There's no guarantee now the Pels will match if he gets a giant offer sheet.
Cameron Payne, Suns, 26, PG (Up) – Signed to a two-year, $2.17MM deal in 2020
Payne was on the free agent market this summer and was signed to fill an open roster spot prior to the restart. Phoenix didn't bring him in simply for insurance. He appeared in all eight seeding games as a backup point guard, averaging 10.9 PPG, 3.9 RPG and 3.0 APG in 22.9 MPG. Though he signed a two-year contract, only $25K of that money for next season is guaranteed, as ESPN's Bobby Marks recently noted. The way Payne performed in Orlando, he should have no trouble staying on the roster and earning the rest of his $1.977MM salary for 2020/21 as a second-unit player.
Tyler Johnson, Nets, 28, PG/SG (Up) – Signed to a one-year, $217K deal in 2020
Johnson signed a four-year, $50MM offer sheet with Brooklyn four summers ago but Miami chose to retain him. He finally wound up with the Nets in free agency and got just over $200K in a rest-of-the-season deal. No matter. Johnson was happy to get fresh start and it has shown during Brooklyn's gritty performances in Orlando. He's averaged 12.0 PPG, 3.1 RPG and 3.0 APG in 24.3 MPG and can now continue his push for another contract during the postseason. If the Nets don't retain him, Johnson should easily find a home as a second-unit combo guard.
Jerian Grant, Wizards, 27, PG/SG (Down) – Signed to a one-year, $197K deal in 2020
Grant was signed as a substitute player in June after Davis Bertans opted out of the restart. Grant called it a "dream come true" to play for his hometown team, but he didn't give the Wizards much incentive to re-sign him to an NBA contract. He appeared in six restart games, averaging 4.5 PPG and 1.5 APG in 13.3 MPG while shooting 25% from long range. Grant spent most of the season with the Wizards' G League team and he may have to go that route again or look into overseas options.