Bucks star Giannis Antetokounmpo has been named the NBA's Defensive Player of the Year for the 2019/20 season, the league confirmed today in a press release. Antetokounmpo's win was first reported by Chris Haynes of Yahoo Sports.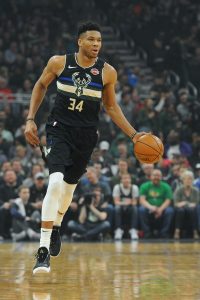 Antetokounmpo helped anchor a Milwaukee defense that ranked first in the NBA by a comfortable margin, with a 102.5 rating. The reigning MVP, who routinely guarded all five positions, averaged one steal and one block per game to go along with 11.4 DRPG, and opponents shot just 36.2% when he was the primary defender, per NBA.com.
Antetokounmpo, who is a strong favorite to win this year's MVP award as well, received 75 of 100 possible first-place votes, beating out Lakers big man Anthony Davis and Jazz center Rudy Gobert for DPOY honors. Davis (14 first-place votes) was the runner-up, while Gobert (six first-place votes) finished third after winning the award in each of the last two seasons.
Here are the full results of the 2019/20 Defensive Player of the Year voting, according to the NBA's announcement:
Antetokounmpo, Bucks (432 points)
Davis, Lakers (200)
Gobert, Jazz (187)
Ben Simmons, Sixers (32)
Bam Adebayo, Heat (17)
Patrick Beverley, Clippers (7)
Marcus Smart, Celtics (7)
Andre Drummond, Pistons/Cavaliers (5)
Kawhi Leonard, Clippers (5)
Brook Lopez, Bucks (4)
Hassan Whiteside, Trail Blazers (3)
Jarrett Allen, Nets (1)
Besides Antetokounmpo, Davis, and Gobert, the other players receiving first-place votes were Simmons, Adebayo (two), Beverley, and Drummond.
Photo courtesy of USA Today Sports Images.