The Magic's fears were confirmed following an MRI on Jonathan Isaac's injured left knee, with the team announcing early on Monday morning that the young forward has suffered a torn ACL and will be sidelined indefinitely.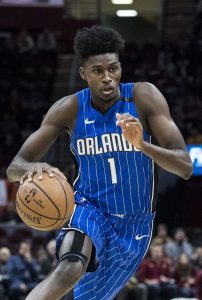 According to the press release issued by the Magic, Isaac's return to the court will depend on how he responds to treatment and rehabilitation. However, given the nature of the injury, it's safe to assume he won't be back this summer, and there's no guarantee he'll be able to play at all next season.
Isaac was driving to the basket early in the fourth quarter of Orlando's blowout win over the Kings on Sunday when his left knee buckled and he went down, clutching the knee in pain. He was eventually taken off the court on a wheel chair.
Isaac was on the verge of a breakout 2019/20 season, having averaged career highs in PPG (11.9), RPG (6.8), BPG (2.3), SPG (1.6), and a handful of other categories in the 34 games (28.8 MPG) he played. However, a severe left knee sprain and bone bruise sidelined him on January 1, and his summer comeback effort was abruptly halted on Sunday by another injury to that knee.
As Josh Robbins of The Athletic writes, in the short term, Isaac's injury will limit the Magic's playoff upside this summer. However, it's the long-term impact that figures to be of greater concern to the franchise. The 22-year-old, who will be eligible for a rookie scale extension this offseason, is viewed as perhaps Orlando's most obvious franchise cornerstone. Now there's no chance he won't be back on the court before his rookie contract expires in 2021.
The Magic figure to be patient with Isaac's injury, which shouldn't compromise his long-term future in Orlando, but it creates some major questions for the club to answer within the next year or two. For instance, an offseason extension for Isaac had appeared likely, but that will be trickier to negotiate now that he'll be in the early stages of rehabbing his torn ACL when he becomes extension-eligible.
Additionally, the idea of shopping Isaac's fellow power forward Aaron Gordon in potential trades this fall figures to look less appealing with Isaac expected to miss most or all of 2020/21, as Robbins observes.
While the Magic will have to eventually consider those issues, for now they're focused on supporting Isaac.
"It was tough seeing it just knowing what he's been through and knowing the work he put in to get back out here," teammate Markelle Fultz said, per Robbins. "Immediately when he went down, I just started to pray for him. I'm hoping everything works out the best for him. He's just such a good guy."
"We all love him to death," Terrence Ross added. "Just to see what he's been going through these last couple of years, it's tough on everybody. If anybody can handle this and push through and come out better, it's J.I. So our prayers are with him, and we're going to support him no matter what."
After consecutive wins in their first two seeding games, the Magic are 32-35, placing them seventh in the Eastern Conference and putting them in good position to make the postseason without participating in a play-in tournament. They'll have to clinch that spot without their best defensive player in the lineup.
Photo courtesy of USA Today Sports Images.