Hoops Rumors is previewing the 2020 offseason for all 30 NBA teams. We're looking at the key questions facing each club, as well as the roster decisions they'll have to make this fall. Today, we're focusing on the Memphis Grizzlies.

---
Salary Cap Outlook
Though they were initially projected to have some cap room this offseason, the Grizzlies all but eliminated that possibility at the trade deadline when they moved three players on expiring contracts – Andre Iguodala, Jae Crowder, and Solomon Hill – in exchange for three – Justise Winslow, Gorgui Dieng, and Dion Waiters – who have eight-figure salaries for 2020/21.
As a result, the Grizzlies have more than $112MM in guaranteed money on their books for '20/21, so they'll operate as an over-the-cap team. They won't have the bi-annual exception available after using it this past season, but they should be able to utilize the full mid-level exception ($9.26MM) if they so choose.
Our full salary cap preview for the Grizzlies can be found right here.
---
Roster Decisions To Watch
Options:
Non-Guaranteed Contracts:
Two-Way Contracts:
Free Agents:
---
2020 Draft Assets
First Round:
Second Round:
The Grizzlies finally conveyed the first-round pick they owed to Boston as a result of a 2015 Jeff Green trade. It was protected multiple times and would have been protected again in 2020 if it had landed in the top six, but it came in at No. 14.
Memphis traded its own second-round pick (No. 44) to Chicago but acquired the Suns' second-rounder (No. 40) in last July's De'Anthony Melton/Jevon Carter swap.
---
Three Key Offseason Questions
1. What role do the Grizzlies envision for Justise Winslow?

The Grizzlies got a head-start on their offseason at the 2020 trade deadline when they acquired Winslow in a three-team, seven-player trade with Miami and Minnesota.
Because the Grizzlies had to take on two pricey multiyear contracts in addition to Winslow's as part of that deal, it eliminated any chance they had of creating cap room this fall, changing the look of the coming offseason.
The organization's willingness to give up its 2020 cap room by taking on a pair of unwanted contracts signals its fondness for Winslow, who missed most of the 2019/20 campaign due to back and hip issues. While his injury history isn't particularly encouraging, the former 10th overall pick is still just 24 years old, and the comments out of Memphis following February's trade suggest the team views him as a foundational piece.
With Winslow on track to return for the start of the '20/21 season, the Grizzlies will have to come up with a plan for how they want to use him. Some of his best games as a pro came when the Heat moved him into more of a ball-handling role, making him their de facto point guard.
Winslow isn't going to become the primary ball-handler for a Grizzlies team that features Ja Morant, but does the team view him as someone who could run the second unit? Or will Memphis prefer to keep him on the wing, in what would be his more traditional position? Answering those questions will help determine how the Grizzlies approach the offseason and fill out their bench.
2. Will the Grizzlies re-sign De'Anthony Melton and/or Josh Jackson?

The Grizzlies don't have any core players hitting the free agent market this fall, but Melton emerged as a solid contributor off the bench and Jackson showed a little upside after eventually being promoted from the G League. Since Melton is a combo guard and Jackson spent most of his time at small forward, Winslow's role could dictate how aggressive Memphis is in attempting to re-sign either player.
Melton should be the first priority. He's a talented perimeter defender who had the best net rating (+5.1) of any of the Grizzlies' full-season rotation players. At age 22, with just two years of experience under his belt, he has plenty of room to improve, and Memphis will have the ability to match any reasonable offer for him, since he'll be a restricted free agent.
ESPN's Bobby Marks projects a three-year contract in the $18MM range for Melton, which I think would be a good deal for the Grizzlies — he'd be movable at that price if the team decides in a year or two that he's not part of the long-term plan.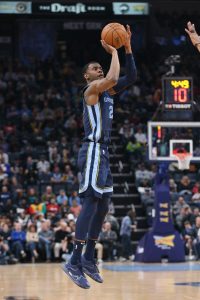 If his cost exceeds that figure, Memphis will have to be careful. In Morant, Tyus Jones, and possibly Winslow, the team already has several ball-handlers, and Melton isn't a strong enough shooter to effectively space the floor when he's playing off the ball, so investing too heavily in him based on his defensive abilities would come with some risk.
As for Jackson, he made positive strides over the course of the season with the Memphis Hustle and later with the Grizzlies, but he still wasn't close to delivering on the potential that made him the No. 4 pick in the 2017 draft. While Memphis would probably welcome the chance to continue his development on a minimum-salary contract, I'd be surprised if the team went much higher than that to retain him.
3. Will the Grizzlies be active on the trade market again?

Executive VP Zach Kleiman and the Grizzlies' new-look front office made some of the most impressive and creative trades of the 2020 offseason. They cashed in their Mike Conley stock, moved up in the draft to select Brandon Clarke, acquired a lightly-protected future first-round pick from the Warriors for helping them move Andre Iguodala, and turned Chandler Parsons' oversized expiring contract into two expiring deals that could be moved more easily.
While I didn't like the Grizzlies' deadline acquisition of Winslow quite as much, the team did well to flip Iguodala – and Jae Crowder's expiring deal – for a potentially valuable asset after getting a first-rounder for taking him on just seven months earlier.
With no cap room available this fall, it may be a quiet offseason in Memphis, especially compared to Kleiman's first summer running the show. However, if the Grizzlies do make any sort of splash, it's likely to happen on the trade market rather than in free agency.
Without control of their own 2020 first-round pick, the Grizzlies' assets are somewhat limited, but Gorgui Dieng's $17MM expiring contract could help grease the wheels if the team has any targets any mind. And once the draft is over, any of Memphis' future first-round picks – including the future Utah first-rounder the team controls – would be movable.
I don't expect the Grizzlies do anything drastic on the trade market this fall, but Kleiman has shown a willingness to be active, so the possibility can't be ruled out.
Information from Basketball Insiders and ESPN was used in the creation of this post. Photos courtesy of USA Today Sports Images.