Hoops Rumors is looking ahead at the 2020/21 salary cap situations for all 30 NBA teams. Due to the impact of the coronavirus pandemic on the NBA, it's impossible to know yet where the cap for 2020/21 will land. Given the league's lost revenue, we're assuming for now that it will stay the same as the '19/20 cap, but it's entirely possible it will end up higher or lower than that.

Expected to be one of the NBA's worst teams entering the season, the Grizzlies greatly exceeded expectations, buoyed by standout rookies Ja Morant and Brandon Clarke. Despite a widespread belief that the team would eventually lose its grip on the No. 8 seed in the West, Memphis had a 3.5-game cushion when the league suspended its season.
While they'll likely become a playoff team if the season resumes, the Grizzlies remain in rebuilding mode and will use the offseason to continue building around their young core pieces. However, their three-team deadline-day trade for Justise Winslow, Gorgui Dieng, and Dion Waiters will limit their ability to make major moves.
Here's where things stand for the Grizzlies financially in 2020/21, as we continue our Salary Cap Preview series:
Guaranteed Salary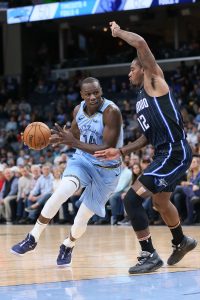 Gorgui Dieng ($17,287,640)
Jonas Valanciunas ($15,000,000)
Justise Winslow ($13,000,000)
Dion Waiters ($12,650,000) — Waived
Dillon Brooks ($11,400,000)
Kyle Anderson ($9,505,100)
Ja Morant ($9,166,800)
Tyus Jones ($8,817,143)
Jaren Jackson Jr. ($7,257,360)
Marko Guduric ($2,750,000)
Brandon Clarke ($2,602,920)
Grayson Allen ($2,545,320)
Dakari Johnson ($459,414) — Waived via stretch provision
Total: $112,441,697

Player Options
Team Options
Non-Guaranteed Salary
Restricted Free Agents
De'Anthony Melton ($1,820,564 qualifying offer / $1,820,564 cap hold): Early Bird rights
Yuta Watanabe ($1,620,564 qualifying offer / $1,620,564 cap hold): Early Bird rights
John Konchar (two-way qualifying offer / $1,445,697 cap hold): Non-Bird rights
Total (cap holds): $4,886,825

Unrestricted Free Agents / Other Cap Holds
Offseason Cap Outlook

Initially expected to have some cap room this offseason, the Grizzlies sent three players on expiring contracts – Andre Iguodala, Jae Crowder, and Solomon Hill – out at the deadline in exchange for Winslow, Dieng, and Waiters, three players earning a combined $43MM in 2020/21.
As a result, Memphis will now enter the offseason operating as an over-the-cap team. However, with $112MM+ committed to 11 guaranteed contracts, the Grizzlies should have plenty of flexibility to fill out their roster without going into tax territory, even if Melton requires a substantial raise on his minimum-salary deal.
Cap Exceptions Available
Mid-level exception: $9,258,000 2
Trade exception: $4,736,842 (expires 7/8/20)
Trade exception: $4,185,185 (expires 2/8/21)
Trade exception: $3,440,000 (expires 7/7/20)
Trade exception: $3,126,308 (expires 7/6/20)
Trade exception: $1,845,301 (expires 2/8/21)
Trade exception: $1,416,852 (expires 7/7/20)
Trade exception: $766,959 (expires 7/6/20)
Footnotes
The Grizzlies can't offer Jackson a starting salary worth more than his cap hold, since they declined his rookie scale team option for 2020/21.
This is a projected value.
Note: Minimum-salary and rookie-scale cap holds are based on the salary cap and could increase or decrease depending on where the cap lands.
Salary information from Basketball Insiders and Early Bird Rights was used in the creation of this post. Photo courtesy of USA Today Sports Images.