Hoops Rumors is previewing the 2020 offseason for all 30 NBA teams. We're looking at the key questions facing each club, as well as the roster decisions they'll have to make this fall. Today, we're focusing on the New Orleans Pelicans.

---
Salary Cap Outlook
Taking the cap hold for their first-round pick into account, the Pelicans only have about $80MM in guaranteed money on their books for 2020/21. However, Brandon Ingram's cap hold will be worth nearly $22MM and his first-year salary on a new deal figures to exceed that, eliminating any cap space New Orleans might have otherwise created.
The Pelicans should also have both the non-taxpayer mid-level exception ($9.26MM) and bi-annual exception ($3.62MM) at their disposal.
Our full salary cap preview for the Pelicans can be found right here.
---
Roster Decisions To Watch
Options:
Non-Guaranteed Contracts: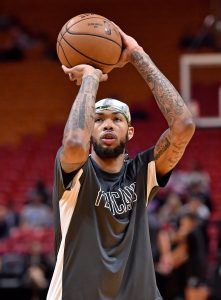 Two-Way Contracts:
Free Agents:
---
2020 Draft Assets
First Round:
Second Round:
No. 39 overall pick
No. 42 overall pick
No. 60 overall pick
The Pelicans are owed multiple future first-round picks from the Lakers as a result of the Anthony Davis blockbuster, but for 2020, they just have their own first-rounder.
In addition to their own second-round pick at No. 42, New Orleans holds the Wizards' second-rounder (No. 39) and the Bucks' second-rounder (No. 60). The Pels acquired both selections in the 2019 deadline deal that sent Nikola Mirotic to Milwaukee.
---
Three Key Offseason Questions
1. Who will the Pelicans hire as their new head coach?

After spending five years in New Orleans as the Pelicans' head coach, Alvin Gentry was let go at the end of the team's season last month. His tenure with the franchise was marred by a series of injuries to stars and rotation players alike, but the end result was still disappointing — the Pels posted a 175-225 (.438) record and made the postseason just once during Gentry's five years at the helm.
When he discussed Gentry's dismissal after the fact, executive VP of basketball operations David Griffin called it an extremely difficult decision and stressed that it wasn't about Gentry's coaching ability.
"This is far more about finding the right fit and a shared vision for a very young and ambitious group moving forward," Griffin said at the time.

The Pelicans' head coaching job is an interesting one. On one hand, the presence of rising stars like Zion Williamson and Brandon Ingram means that an ability to connect to and develop young players will be an important trait for any candidate.
On the other hand, as Griffin hints, New Orleans' goals will soon get a whole lot more "ambitious." Missing the playoffs again next year won't be an acceptable result for the Pelicans, who believe they have the talent to be one of the top teams in the Western Conference.
Considering the organization will have championship aspirations within the next few years, a veteran head coach with plenty of postseason experience would make sense — perhaps Tyronn Lue or, if he becomes available, Mike D'Antoni. But focusing more on player development could instead lead the Pelicans to a candidate like Kenny Atkinson.
There's no one candidate that stands out as the obvious choice for New Orleans and it's an important decision to get right. So it make sense when Griffin said last month that the Pelicans "will not be quick with this at all," as they do their homework and weigh all their options.
2. What are the Pelicans' plans for Jrue Holiday?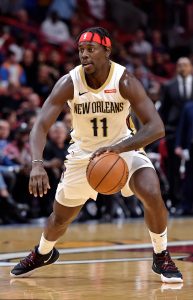 Holiday is one of the NBA's best perimeter defenders and is a play-making weapon on the offensive end too, averaging at least 19 points and six assists per game in each of his last three seasons. He's exactly the sort of player most contending teams would love to have on their roster, which means he should be a perfect fit on a Pelicans club looking to take a step forward and make the postseason in 2020/21.
On the other hand, Holiday is entering a potential contract year (he has a $27MM player option for 2021/22) and is now on the wrong side of the 30, making him significantly older than the rest of New Orleans' core players.
If the Pelicans don't envision him as a long-term piece, this offseason would be the perfect time to gauge Holiday's value on the trade market, with so many would-be contenders looking to fortify their roster and so few impact players expected to be available.
Griffin has done nothing but rave about Holiday since he was hired by New Orleans last year, and the former All-Star would be hard to replace as both a two-way threat and a locker-room leader. It's also not as if the Pelicans need to restock their cupboards with assets — they already have a surplus of first- and second-round picks in hand for the next few years.
With that in mind, I'd be somewhat surprised to see the Pelicans seriously consider moving Holiday this fall. He'll be extension-eligible and the club seems more likely to attempt to lock him up to a longer-term deal rather than to shop him. But if they're worried he'll be gone in a year, the Pelicans should be able to get a pretty favorable return on the trade market for the standout guard.
3. Which of the ex-Lakers will receive new deals this offseason?

When the Pelicans sent Anthony Davis to the Lakers last summer, they acquired three players in return: Brandon Ingram, Lonzo Ball, and Josh Hart. All three players will be eligible for new contracts this offseason — Ingram will be a restricted free agent, while Ball and Hart will be up for rookie scale extensions.
Ingram was the best player of the trio in 2019/20 and there's more urgency to get something done with him, since his contract will expire in the fall. It's hard for me to imagine a scenario in which the Pelicans let him get away, since he was the centerpiece of the AD return and the team has the cap flexibility to accommodate a pricey long-term deal. The question will be just how high New Orleans has to go to get it done.
While it's possible the Pelicans would be able to get Ingram to agree to a deal slightly below the maximum if they're negotiating with him directly, it may not be worth the risk to try to save a few extra dollars.
A team with cap room such as the Hawks could put pressure on New Orleans by signing him to a less team-friendly offer sheet that the Pelicans would be forced to match if they don't want to lose him. It probably makes sense for the Pels to skip that step and be ready to offer a four- or five-year max to bring back Ingram, who made his first All-Star team in 2020.
With Ball and Hart though, the Pelicans have more leeway to play hardball. Both players will have one year left on their rookie scale contracts and will be eligible for restricted free agency in 2021 if they don't sign new deals this offseason. So New Orleans can push for team-friendly extensions, knowing that it's not the end of the world if nothing gets done before next season.
In his recent preview of the Pelicans' offseason, Bobby Marks of ESPN pointed to Dejounte Murray's four-year, $64MM extension with San Antonio as a potential comp for Ball and said that an extension in the four-year, $50MM range might make sense for Hart. If I were running the Pelicans, I probably wouldn't be looking to go any higher than those estimates.
Information from Basketball Insiders and ESPN was used in the creation of this post. Photos courtesy of USA Today Sports Images.