Hoops Rumors is looking ahead at the 2020/21 salary cap situations for all 30 NBA teams. Due to the impact of the coronavirus pandemic on the NBA, it's impossible to know yet where the cap for 2020/21 will land. Given the league's lost revenue, we're assuming for now that it will stay the same as the '19/20 cap, but it's entirely possible it will end up higher or lower than that.

The Pelicans were considered a playoff sleeper prior to the 2019/20 season and again by the time the season went on hiatus. In between, things were a little up and down — the team got off to a dismal 6-22 start in the fall while No. 1 pick Zion Williamson recovered from a knee injury. However, New Orleans bounced back nicely and showed some tantalizing potential in the 19 games Williamson played, as he meshed nicely with young building blocks Lonzo Ball and Brandon Ingram.
The priority this offseason for the Pelicans will be re-signing Ingram, who will be in line for either a maximum-salary contract or something close to it. The franchise has enough cap flexibility to accommodate that deal without approaching tax territory.
Here's where things stand for the Pelicans financially in 2020/21, as we continue our Salary Cap Preview series:
Guaranteed Salary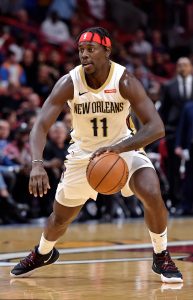 Jrue Holiday ($26,231,111)
J.J. Redick ($13,013,700)
Lonzo Ball ($11,003,782)
Zion Williamson ($10,245,480)
Jaxson Hayes ($5,105,160)
Nicolo Melli ($3,897,436)
Josh Hart ($3,491,159)
Nickeil Alexander-Walker ($3,113,160)
Total: $76,100,988

Player Options
Team Options
Non-Guaranteed Salary
Restricted Free Agents
Brandon Ingram ($9,481,458 qualifying offer / $21,796,456 cap hold): Bird rights
Frank Jackson ($2,023,150 qualifying offer / $2,023,150 cap hold): Bird rights
Kenrich Williams ($1,820,524 qualifying offer / $1,820,524 cap hold): Early Bird rights
Zylan Cheatham (two-way qualifying offer / $1,445,697 cap hold): Non-Bird rights
Josh Gray (two-way qualifying offer / $1,445,697 cap hold): Non-Bird rights
Total (cap holds): $28,531,524

Unrestricted Free Agents / Other Cap Holds
Derrick Favors ($26,475,000): Bird rights
E'Twaun Moore ($16,463,363): Bird rights
No. 13 overall pick ($3,640,200)
Jahlil Okafor ($1,620,564): Early Bird rights
Total: $48,199,127
Offseason Cap Outlook

With just $76MM in guaranteed money on their books for next season so far, the Pelicans could theoretically create cap room. However, there would be no better way to use that room than by re-signing Ingram. He'll be a restricted free agent, giving New Orleans the opportunity to match any offer sheet he signs, and his new deal figures to erase any cap space the Pelicans could carve out.
Fortunately, even with a max deal for Ingram on their books and without a cap increase, the Pelicans would have plenty of room to maneuver below the tax threshold. That should give the team the option of re-signing Favors and/or Moore, or potentially using its full mid-level exception.
Cap Exceptions Available
Mid-level exception: $9,258,000 2
Bi-annual exception: $3,623,000 2
Footnotes
Miller's new salary guarantee date is unknown.
These are projected values. If team salary gets high enough, it's possible the Pelicans would instead be limited to the taxpayer mid-level exception ($5,718,000). If they want to use cap room, they'd have to renounce these exceptions and would gain access to the room exception ($4,767,000).
Note: Minimum-salary and rookie-scale cap holds are based on the salary cap and could increase or decrease depending on where the cap lands.
Salary information from Basketball Insiders and Early Bird Rights was used in the creation of this post. Photo courtesy of USA Today Sports Images.