Hoops Rumors is previewing the 2020 offseason for all 30 NBA teams. We're looking at the key questions facing each club, as well as the roster decisions they'll have to make this fall. Today, we're focusing on the Orlando Magic.

---
Salary Cap Outlook
The Magic currently have approximately $96MM in guaranteed money on their books for 2020/21. That figure would increase to over $102MM if they use this year's first-round pick and sign last year's first-round pick, Chuma Okeke. And it would jump to nearly $120MM if Evan Fournier opts into the final year of his contract.
Whether or not Fournier returns, Orlando is unlikely to have any cap room available this offseason, but the team shouldn't have to worry about going into tax territory. The Magic would have the full mid-level exception ($9.3MM) and bi-annual exception ($3.6MM) available, but almost certainly wouldn't use both in full if Fournier is back.
Our full salary cap preview for the Magic can be found right here.
---
Roster Decisions To Watch
Options:
Non-Guaranteed Contracts:
Two-Way Contracts:
Free Agents:
---
2020 Draft Assets
First Round:
Second Round:
The Magic were one of the few NBA teams that didn't trade either their first- or second-round pick in the 2020 NBA draft. They'll pick right in the middle of each round.
---
Three Key Offseason Questions
1. What's the plan for Evan Fournier?

Before the coronavirus pandemic complicated the financial outlook for teams and players around the NBA, Fournier appeared likely to turn down the $17MM option on his contract in order to test the open market this offseason.
While $17MM is a lot of money to pass up, the stars seemed to be aligning for Fournier — he's still in his prime (he turns 28 in October), plenty of teams were expected to be in the market for wings, and the Frenchman had put up some of the best numbers of his career, including 18.8 PPG on .470/.406/.820 shooting prior to the league's hiatus.
However, an illness put a dent in Fournier's production during the seeding games and the playoffs, and with the salary cap no longer expected to increase, the prospect of finding a team willing to pay him in the neighborhood of $17MM per year on a multiyear deal suddenly looks a whole lot more challenging.
That doesn't mean Fournier is a lock to pick up his option. He and the Magic could work out a new multiyear contract that significantly increases his overall guarantee without necessarily assuring him of $17MM (or more) per year. A year ago, for instance, Jonas Valanciunas passed on a $17.6MM option in favor of a three-year contract worth $15MM per year, giving him more long-term security.
But the Magic, having already invested long-term in Nikola Vucevic and Terrence Ross, may be reluctant to do the same for another key contributor to a roster that has finished in the middle of the pack in each of the last few seasons. If that's the case, Fournier's safest bet would be to opt in and try his luck on the 2021 market.
If Fournier opts in, there's nothing stopping the Magic from gauging his value on the trade market. He'd be on an expiring contract and his pre-hiatus play in 2019/20 was impressive — he could appeal to a team looking to add a complementary scorer on the wing.
2. Will the Magic extend Markelle Fultz or Jonathan Isaac?

While it remains to be seen if Fournier is part of the Magic's long-term plans, all signs point to the team being willing to invest in Fultz and Isaac as cornerstone pieces. It's just not clear whether that will happen this offseason, when both members of the 2017 draft class become eligible for rookie scale extensions for the first time.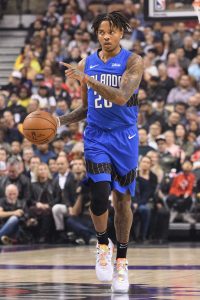 Fultz, who has experienced a pretty unusual career trajectory for a No. 1 pick so far, stayed healthy for the first time in 2019/20 and flashed signs of the upside that made him the first overall choice three years ago. His ability to break down a defense and set up his teammates was on display in Orlando, as he averaged 12.1 PPG and 5.1 APG, but there's still plenty of work to be done on his jump shot (.267 3PT%).
At age 22, Fultz still has plenty of growth potential. The Magic will have to determine how confident they are that he'll continue to improve, how much they're willing to bet on that growth, and whether Fultz will be willing to forgo restricted free agency in favor of an early extension.
If Orlando bets right on Fultz, it could mean getting him on a team-friendly extension as he blossoms into a star, which would change the long-term outlook of the franchise. On the other hand, investing big money in him now and then watching his development curve flatten would hamstring the organization's spending ability going forward.
It'll be a tough decision, so it will be interesting to see how high the Magic are willing to go — ESPN's Bobby Marks suggests the team should wait for Fultz's restricted free agency unless he's open to signing a deal that starts in the neighborhood of his 2020/21 salary ($12.3MM).
As for Isaac, the blossoming Defensive Player of the Year contender would've been a more logical candidate for a rookie scale extension if he were healthy. Instead, he'll be recovering from an ACL injury that's expected to sideline him for the entire 2020/21 season, so the Magic will have to evaluate his recovery before making any major commitment.
The injury doesn't mean Isaac can't sign an extension in the coming months. We've seen players like Klay Thompson and Kristaps Porzingis get lucrative new long-term deals while recovering from ACL tears of their own, and all indications are that the Magic want Isaac to be a part of their future. Unlike Thompson and Porzingis though, Isaac isn't a lock for a maximum-salary offer, so some negotiation will be required if the two sides are going to come to an agreement before the '20/21 season begins.
3. Will Aaron Gordon be on the trade block?

Prior to Isaac's injury, Gordon seemed like one of the NBA's most logical offseason trade candidates. He and Isaac overlap positionally, his name has come up in previous trade rumors, and his contract gets more favorable with each passing year due to its declining annual value ($18.1MM in 2020/21; $16.4MM in '21/22).
Now that Isaac will be out for the season though, Orlando figures to be less motivated to move Gordon. With the power forward position to himself in '20/21, the 25-year-old could be primed for a career year, which would be a win-win situation for the Magic — not only would they enjoy the benefits of his production, but Gordon could increase his trade value ahead of the '21 deadline and/or offseason.
Gordon's athleticism and defensive versatility make him a tantalizing trade target, and if there's a team willing to give up an appealing package for him this offseason, the Magic should certainly listen. Of the players the team would be open to moving, Gordon is the most intriguing, and he represents Orlando's best chance to acquire an impact player who would be a better fit for the current roster.
If there are no favorable offers out there this fall or winter, however, the Magic shouldn't be in any rush to shake things up. Gordon is in position to boost his value next season, and still has two years left on his contract, so unless something goes wrong, the club will have more opportunities to cash in its stock down the road.
Information from Basketball Insiders and ESPN was used in the creation of this post. Photos courtesy of USA Today Sports Images.