Hoops Rumors is looking ahead at the 2020/21 salary cap situations for all 30 NBA teams. Due to the impact of the coronavirus pandemic on the NBA, it's impossible to know yet where the cap for 2020/21 will land. Given the league's lost revenue, we're assuming for now that it will stay the same as the '19/20 cap, but it's entirely possible it will end up higher or lower than that.

The Magic entered the 2019/20 season looking to build on its strong finish the previous year, but have ended up taking a slight step back instead, entering the hiatus with a 30-35 record after winning 42 games in 2018/19.
With Nikola Vucevic, Aaron Gordon, and Terrence Ross still earning eight-figure salaries for multiple years beyond this season, and Jonathan Isaac and Markelle Fultz expected to eventually be locked up too, the Magic may not be in position to make major changes to their roster within the next year or two unless they do so on the trade market.
Here's where things stand for the Magic financially in 2020/21, as we continue our Salary Cap Preview series:
Guaranteed Salary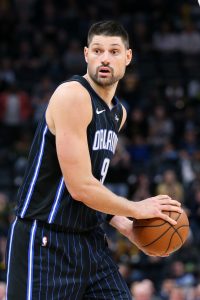 Nikola Vucevic ($26,000,000)
Aaron Gordon ($18,136,364)
Terrence Ross ($13,500,000)
Markelle Fultz ($12,288,697)
Al-Farouq Aminu ($9,720,900)
Jonathan Isaac ($7,362,566)
Mohamed Bamba ($5,969,040)
Khem Birch ($3,000,000)
Total: $95,977,567

Player Options
Team Options
Non-Guaranteed Salary
Restricted Free Agents
Wesley Iwundu ($2,023,150 qualifying offer / $2,023,150 cap hold): Bird rights
Gary Clark ($1,820,524 qualifying offer / $1,820,524 cap hold): Non-Bird rights
B.J. Johnson (two-way qualifying offer / $1,445,697 cap hold): Non-Bird rights
Vic Law (two-way qualifying offer / $1,445,697 cap hold): Non-Bird rights
Total (cap holds): $6,735,068

Unrestricted Free Agents / Other Cap Holds
D.J. Augustin ($13,775,000): Bird rights
Jerian Grant ($5,014,697): Bird rights 1
No. 15 overall pick ($3,285,120)
Chuma Okeke ($3,121,080) 2
Michael Carter-Williams ($1,620,564): Early Bird rights
Arron Afflalo ($1,620,564): Non-Bird rights 1
Marreese Speights ($1,620,564): Non-Bird rights 1
Total: $30,057,589
Offseason Cap Outlook

Assuming they plan to keep their first-round pick and sign Okeke in 2020, the Magic will have more than $102MM in guaranteed money committed to 10 players. That should put the club in position to either re-sign Fournier or accommodate his $17MM player option without approaching tax territory.
Letting Fournier walk would theoretically give the Magic even more flexibility, but probably wouldn't result in any cap room. It would make more sense for Orlando to operate as an over-the-cap team in that scenario in order to retain its full mid-level and bi-annual exceptions.
Cap Exceptions Available
Mid-level exception: $9,258,000 3
Bi-annual exception: $3,623,000 3
Footnotes
The cap holds for Grant, Afflalo, and Speights remain on the Magic's books because they haven't been renounced after going unsigned in 2019/20. They can't be used in a sign-and-trade deal.
The 16th overall pick in 2019, Okeke has yet to sign his rookie scale contract. He'll be eligible to sign in 2020/21 for the same amount as the No. 16 pick in the 2020 draft.
These are projected values. If the Magic's team salary continues to increase, it's possible they'd be limited to the taxpayer mid-level exception ($5,718,000).
Note: Minimum-salary and rookie-scale cap holds are based on the salary cap and could increase or decrease depending on where the cap lands.
Salary information from Basketball Insiders and Early Bird Rights was used in the creation of this post. Photo courtesy of USA Today Sports Images.