Throughout the season, Hoops Rumors takes a closer look at players who will be free agents or could become free agents this off-season. With the playoffs ongoing at the Orlando campus, it's time to examine if their stock is rising or falling due to performance and other factors.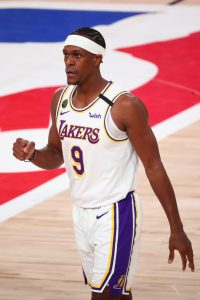 Rajon Rondo, Lakers, 34, PG (Up) – Signed to a two-year, $5.2MM deal in 2019
Just when it seems that Rondo's career is winding down, he reinforces how effective he can be when he's healthy. Rondo was an afterthought when play resumes, as he was still recovering from a busted right hand. Coach Frank Vogel didn't hesitate to give Rondo a large role once he was ready to play again in the conference semifinals. Rondo piled up 10 points, nine assists and five steals in the Lakers' Game 2 win over Houston and 21 points and nine assists in Game 3. He came up two assists shy of a triple-double in Game 4. Rondo has a $2.62MM player option for next season. He's given himself the flexibility of opting out and getting a better offer in free agency.
Jae Crowder, Heat, 30, SF (Up) – Signed to a five-year, $35MM deal in 2015
Crowder has played a major role in the Heat's surprising run to the Eastern Conference semifinals. His defense against Giannis Antetokounmpo and 3-point shooting were instrumental as Miami knocked off the top seed. He averaged 15.2 PPG, 6.0 RPG and 2.2 APG in 33.6 MPG and made 43.2% of his shots during the conference semifinals. When Miami acquired Crowder from the Grizzlies before the trade deadline, it was assumed Andre Iguodala would make the biggest impact. Instead, Crowder has re-established his value. He'll attract plenty of attention on the free agent market and could get a full mid-level from a playoff contender.
Mason Plumlee, Nuggets, 30, C (Down) – Signed to a three-year, $41MM deal in 2017
Plumlee got steady playing time as Nikola Jokic's backup during the regular season, averaging 7.2 PPG, 5.2 RPG and 2.5 APG in 17.3 MPG. As the playoffs have progressed, Plumlee's minutes have plummeted and so has his confidence. Even with his six-point outing in Game 5 against the Clippers on Friday, the big man is averaging more fouls (2.2) than points (1.6) in 10.3 MPG uring the postseason. That, plus the fact Plumlee doesn't stretch defenses, complicates his ability to find a home in unrestricted free agency this offseason. Plumlee will probably be staring at veteran's minimum offers, a far cry from what he received three years ago.
Stanley Johnson, Raptors, 24, SF (Down) – Signed to a two-year, $7.4MM deal in 2019
Johnson's representatives did their client a big favor by securing a player option on the second year of his contract. It would be foolhardy for Johnson to pass up the guaranteed $3.8MM and test the free agent waters, considering he's spent most of the season at the end of Toronto's bench. Johnson's postseason minutes have consisted of three late-game appearances in blowouts. He wasn't in the rotation throughout the regular season, either. Johnson was the eighth pick of the 2015 draft and his first team, Detroit, is still lamenting the fact it picked him instead of Devin Booker, Myles Turner or Justise Winslow.
Brad Wanamaker, Celtics, 31, PG (Up) – Signed to a one-year, $1.44MM deal in 2019
Coaches often shorten their rotations during the postseason but Wanamaker has continued to receive steady bench minutes from coach Brad Stevens. He's averaged 5.8 PPG and 1.7 APG in 17.8 MPG and made the most of his limited 3-point opportunities (52.6%). Wanamaker, who spent most of his career overseas, re-signed with the Celtics last season on a minimum deal. He's a restricted free agent but his qualifying offer of $1.82MM is peanuts by NBA standards. He's improved his chances of the Celtics extending that offer, unless they have their eyes on another free agent point guard to back up Kemba Walker.