Throughout the season, Hoops Rumors takes a closer look at players who will be free agents or could become free agents this off-season. With the playoffs ongoing at the Orlando campus, it's time to examine if their stock is rising or falling due to performance and other factors.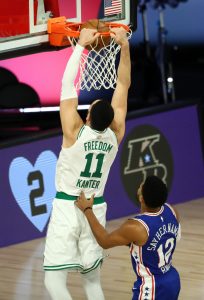 Enes Kanter, Celtics, 28, C (Down) – Signed to a two-year, $9.77MM deal in 2019
It's difficult to pump up your value when you're glued to the bench. That's the dilemma for Kanter, who has dropped out of the Celtics' big man rotation. Kanter averaged 15 MPG in the opening round against Philadelphia but coach Brad Stevens has gone with Daniel Theis and Robert Williams III during the second-round series against Toronto. Save for a four-minute cameo on Thursday, Kanter has been a spectator. He has a $5MM player option for next season and the benching might compel him to take the guaranteed money and force the front office's hands.
Goran Dragic, Heat, 34, PG (Up) – Signed to a five-year, $85MM deal in 2015
Perhaps we all forgot how good this guy can be. Dragic is getting a little long in the tooth and has battled injury issues, but he's been fantastic on the Orlando campus. He's been the most consistent offensive force for the surprising Heat, averaging 22.8 PPG and 5.0 APG against Indiana in the first-round sweep and 25.0 PPG and 4.5 APG in Games 1 and 2 against Milwaukee. Dragic could provide a major jolt for any playoff-caliber club and his price tag keeps rising.
Ben McLemore, Rockets, 27, SG (Down) – Signed to a two-year, $4.3MM deal in 2019
McLemore got off to a strong start in Orlando, including back-to-back 20-point games during the seeding round. As the playoffs have moved along, McLemore has seen his playing time diminish. He received 10 or fewer minutes in the last three games against Oklahoma City, as Russell Westbrook's return affected his role. McLemore's $2.3MM for next season isn't guaranteed. The contract is cheap enough for the Rockets to retain him, but if that happens, there's no guarantee he'll be a rotation player.
Evan Fournier, Magic, 27, SG (Down) – Signed to a five-year, $85MM deal in 2016
Fournier has a $17.15MM option on his contract for next season. It seemed likely prior to the stoppage of play in March that he'd opt out and test a weak free agent market. His career year hit a snag during the restart, as he battled a non-COVID related illness and then was generally a non-factor in the first-round series against Milwaukee. He shot 35.7% from the field, compared to 44.9% shooting during the regular season. With all the uncertainty surrounding next season, Fournier has more incentive to take the guaranteed money.
Noah Vonleh, Nuggets, 25, PF (Down) – Signed to a one-year, $2MM deal in 2019
A lottery pick in 2014, Vonleh has already played for six organizations. It looks like he'll be adding a seventh to his resume next season, provided he can find another NBA home. Vonleh made three brief appearances in the seeding round but his only action during the playoffs was a three-minute stint during a 37-point loss to Utah. It's easy to forget that Vonleh started 57 games for the Knicks last season. There won't be any teams valuing him as a starter this offseason; he'll be fortunate to get another veteran's minimum deal.
Photo courtesy of USA Today Sports Images.