Addressing reporters on Wednesday before the 2020 NBA Finals got underway, commissioner Adam Silver reiterated that the league's goal for the start of the 2020/21 regular season is to get fans back in arenas, according to Tim Reynolds of The Associated Press and Mark Medina of USA Today. While it may not be realistic to expect sell-out crowds, especially if no coronavirus vaccine has been approved, Silver is hopeful that the introduction of rapid COVID-19 testing will help matters.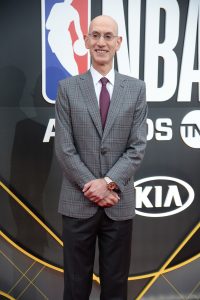 "Based on everything I've read, there's almost no chance that there will be a vaccine at least that is widely distributed at least before we start the next season. I do not see the development of a vaccine as a prerequisite," Silver said, per Medina. "My sense with rapid testing is we may not have 19,000 people in the building. We'll see. But that, with appropriate protocols in terms of distancing and with advanced testing, you will be able to bring fans back into the arenas.
"… The question is will there be truly rapid tests, point-of-care testing that don't get sent to the lab? Are there instant results? There are lot of pharmaceutical companies focused on that. There's a marketplace for that."
Both Silver and NBPA executive director Michele Roberts stressed that their preference is not to repeat the bubble or mini-bubble experience for the 2020/21 season, despite its success in Orlando this summer.
"Do I want to do it again? Not if I can avoid it," Roberts said, per Reynolds. "Those are my marching orders: Not if we can avoid it. Now, having said that, the players want to make sure we can save our season again."
Silver's state-of-the-league address touched on a handful of other topics. Here are some of the highlights from the NBA's commissioner:
---
On the start date for the 2020/21 season:
Silver recently acknowledged that the '20/21 season is unlikely to start until sometime in the new year, but on Wednesday he didn't entirely close the door on a Christmas Day start, even while admitting that it's unlikely.
"The earliest we would start is Christmas. That's been a traditional tent-pole day for the league; but it may come and go," Silver said, according to Brian Lewis of The New York Post. "Probably the greater likelihood is we start in January."
As Silver pointed out, the 2019/20 campaign has been the longest season in NBA history and many players who participated in the summer restart in Orlando were continuously training through the hiatus, meaning they're not necessarily eager for a quick turnaround to training camps.
"The Finals will end in roughly mid-October, and they need a break physically and mentally," Silver said, per Joe Vardon of The Athletic. "There's no question about that."
Silver was also asked about the possibility of shifting the NBA's schedule further into the summer on a permanent basis, but downplayed the idea that the league is seriously considering that possibility, suggesting that many players want "some normalcy in the summer" and adding that "fewer people are watching television in the summer," as ESPN's Tim Bontemps details.
---
On negotiating Collective Bargaining Agreement adjustments with the NBPA:
The NBA has yet to set dates for free agency, figures for the 2020/21 salary cap, or a calendar for next season. It will need to negotiate those issues – and many others – with the players' union before finalizing anything. However, Silver didn't sound concerned about the two sides' ability to work things out.
"There's no doubt there are issues on the table that need to be negotiated," Silver said, according to Vardon. "I think it's — we've managed to work through every other issue so far. I think we have a constructive relationship with (the NBPA). We share all information. We look at our various business models together. So I think while no doubt there will be issues and there will be some difficult negotiations ahead, I fully expect we'll work them out, as we always have."
Silver indicated that serious negotiations on the necessary changes likely won't begin until after the Finals are complete, but reiterated that he doesn't believe there will be any labor issues.
"I think we all understand the essential parameters," Silver said.
---
On the number of Black head coaches in the NBA:
In the wake of racial and social justice protests this summer, the number of Black head coaches in the NBA has shrunk, with Doc Rivers, Nate McMillan, and Alvin Gentry losing their jobs while interim Nets coach Jacque Vaughn was also replaced. According to Bontemps, there are just four Black head coaches left in the NBA for now: J.B. Bickerstaff, Lloyd Pierce, Monty Williams, and Dwane Casey.
Given the NBA's increased awareness of the importance of diversity in hiring, Silver said the league is encouraging teams with coaching openings to consider a wide range of candidates. However, he said the league office won't dictate who teams should hire and doesn't believe the NBA requires a rule similar to the NFL's "Rooney Rule," mandating a certain number of interviews with minority candidates.
"We've looked at what might be an equivalent to a Rooney-type rule in the NBA, and I'm not sure it makes sense," Silver said, per ESPN. "I'm open-minded if there are other ways to address it. There is a certain natural ebb and flow to the hiring and firing, frankly, of coaches, but the number is too low right now. And again, I think we should — let's talk again after we fill these six positions and see where we are, because I know we can do better, and I think we will do better."
---
On whether traveling to and from Canada will be possible for the Raptors and other NBA teams in 2020/21:
Since the '19/20 campaign was completed in Orlando, international travel hasn't been an issue for NBA franchises. However, if teams return to their respective home arenas for next season, that will be an important factor to take into account for the Raptors and their opponents, since Canada's federal government has closed its border with the U.S. to non-essential travelers.
Toronto's MLB team, the Blue Jays, didn't receive approval from the Canadian government to play in Toronto during the 2020 season and was forced to instead play home games across the border in Buffalo. Silver admitted that he's unsure what the plans would be for the Raptors, observing that the decision will be somewhat out of the NBA's hands.
"Obviously it's one of those things that's going to be outside of our control," Silver said, according to Bontemps. "I know (Raptors owner) Larry (Tanenbaum) has had ongoing conversations, as has (president of basketball operations) Masai Ujiri, with government officials in Canada to see how they're going to be looking at things this fall, but it's just too early to know. But we will obviously have to work with whatever rules we're presented with there."
---
Photo courtesy of USA Today Sports Images.