NOVEMBER 23: The deal is official, according to a press release from the Cavs. Cleveland acquires McGee and the Lakers' second-round pick in exchange for McKinnie and Bell, as expected.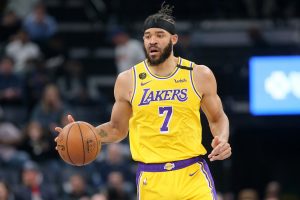 ---
NOVEMBER 22: The Lakers are set to send center JaVale McGee and a future second-round draft pick to the Cavaliers, according to Adrian Wojnarowski of ESPN (via Twitter). This will create flexibility below the hard cap to allow the Lakers to sign veteran center Marc Gasol.
Chris Fedor of Cleveland.com tweets that the second-round pick will be from the 2026 NBA draft. Fedor reports in a separate tweet that small forward Alfonzo McKinnie and big man Jordan Bell will be headed to Los Angeles in the deal.
McGee has a $4.2MM cap charge for 2020/21, which the Cavaliers have no way to absorb without sending out some salary themselves. McKinnie ($1.76MM) and Bell ($1.76MM) are currently on non-guaranteed deals, but their salaries will have to be at least partially guaranteed to make the deal work. The Cavs have to send out about $2.34MM and non-guaranteed money doesn't count for salary-matching purposes.
Bobby Marks of ESPN tweets that the likely outcome will see McKinnie being fully guaranteed, while Bell gets about a $600K guarantee. The Lakers could then waive and stretch Bell to create a little extra flexibility.
McGee started at center for most of the Lakers' 2019/20 championship season, but was supplanted in the starting lineup during the last two rounds of the playoffs by the more mobile Markieff Morris or Dwight Howard most of the time, with Anthony Davis shifting from power forward to center to close out the Heat in Game 6 of the Finals. McGee is a three-time champion thanks to tenures with the Warriors and Lakers.
It doesn't sound as if the Cavaliers view McGee as a mere salary dump. The team wanted a veteran big man with experience coming off the bench behind Andre Drummond, according to Fedor, so McGee will replace Tristan Thompson on the roster. Cleveland continues to explore possible free agent deals involving the mid-level, with a focus on backup point guard, per Fedor.
Luke Adams contributed to this story. Photo courtesy of USA Today Sports Images.