NOVEMBER 17, 9:39am: ESPN's Bobby Marks has the details on the picks headed to New Orleans in the trade, reporting (via Twitter) that in addition to this year's No. 24 pick, the Bucks will also give up their unprotected first-rounders in 2025 and 2027. The Pelicans will have the right to swap first-rounders with Milwaukee in 2024 and 2026.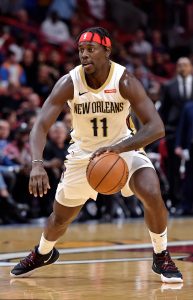 In order to ensure the 2025 and 2027 picks are freed up and don't violate the Stepien rule, the Bucks are sending a future second-round pick to the Cavaliers, who were owed Milwaukee's 2022 first-round pick. In exchange, the Cavs will agree to lift the top-10 protection on that first-rounder, ensuring it changes hands in '22, per Marks (Twitter link).
Milwaukee will also receive the No. 60 pick in Wednesday's draft as part of the deal, tweets Jonathan Givony of ESPN. That pick was originally the Bucks' own, but was one of the second-rounders they sent to New Orleans in 2019 for Nikola Mirotic. Now they'll have it back.
That pick will help the Bucks fill out their roster on the cheap, since a rookie drafted in the second round can likely to be signed to a minimum salary that will only count for $898,310 against the cap and tax.
There are conflicting reports on whether the Bucks will also receive the No. 42 pick in this year's draft from New Orleans. Eric Nehm of The Athletic reported (via Twitter) that the pick is part of the deal, while Andrew Lopez of ESPN (Twitter link) has been told that Milwaukee is only receiving No. 60.
---
NOVEMBER 16, 10:33pm: The Bucks have reached a deal to acquire standout guard Jrue Holiday from the Pelicans, according to Shams Charania of The Athletic, who reports (via Twitter) that New Orleans will receive Eric Bledsoe, George Hill, and draft compensation in return.
That draft compensation is substantial — the Pelicans will receive three future first-round picks from Milwaukee, sources tell Adrian Wojnarowski of ESPN (Twitter link). One of those three selections is this year's No. 24 pick, tweets David Aldridge of The Athletic. New Orleans will also acquire a pair of future draft pick swaps in the deal, per Charania (Twitter link).
Holiday, 30, is coming off a 2019/20 season in which he averaged 19.1 PPG, 6.7 APG, 4.8 RPG, and 1.6 SPG with a shooting line of .455/.353/.709 in 61 games (34.7 MPG) for New Orleans. Although he didn't earn a spot on one of this season's All-Defensive teams, he has done so twice in the past and is widely considered one of the NBA's best perimeter defenders.
Acquiring Holiday is an all-in move for the Bucks and general manager Jon Horst, who are trying to convince two-time MVP Giannis Antetokounmpo to sign a super-max contract extension to remain with the team long-term. Antetokounmpo has repeatedly stated that he's interesting in staying in Milwaukee as long as he believes the club is capable of winning a title.
[RELATED: Giannis Says He's Not Looking To Leave Milwaukee]
Upgrading their backcourt by acquiring Holiday should make the Bucks – who have posted the league's best regular season record in each of the last two seasons – an even more formidable title threat. However, the acquisition cost is significant, particularly given Holiday's contract situation.
The 30-year-old's deal will pay him $25.9MM in 2020/21 and includes a $26.8MM player option for '21/22, meaning he can reach free agency a year from now. While Antetokounmpo and Holiday are both eligible to hit the open market and sign elsewhere in 2021, it sounds like the Bucks are betting heavily on their ability to lock up both players to new deals.
On that note, Marc Stein of The New York Times tweets that the last couple weeks have been "filled with chatter" about the possibility that Antetokounmpo will sign his super-max offer this offseason. Milwaukee's willingness to give up so many future assets seems to reflect the team's optimism, Stein observes.
Holiday's age and contract situation prompted the Pelicans to explore the trade market in search of a deal this offseason, as president of basketball operations David Griffin looked to acquire pieces that better line up with the timeline of the club's young core, led by Zion Williamson and Brandon Ingram.
While the Pelicans were reportedly willing to hang onto Holiday if a favorable deal didn't materialize, a return of three first-round picks and two pick swaps was too appealing to turn down. Having landed a substantial haul in last year's Anthony Davis trade as well, New Orleans now has five extra first-round picks in future seasons, as well as three pick swaps.
It remains to be seen whether Bledsoe and Hill – both veterans in their 30s who probably aren't part of the Pelicans' long-term plans – will spend the season in New Orleans or if the team will look to flip one or both players in subsequent deals.
Bledsoe, a strong defender whose offensive limitations have hurt the Bucks in the last two postseasons, averaged 14.9 PPG, 5.4 APG, and 4.6 RPG on .475/.344/.790 shooting in 61 games (27.0 MPG) in 2019/20. He has three years and about $54MM left on his contract, though his 2022/23 salary ($19.4MM) is mostly non-guaranteed.
Hill, meanwhile, was a reliable rotation player in Milwaukee, averaging 9.4 PPG, 3.1 APG, and 3.0 RPG on .516/.460/.842 in 59 games (21.5 MPG) last season. The 34-year-old has a guaranteed $9.6MM salary in '20/21 with a lightly guaranteed $10MM salary for '21/22.
With Holiday off the market, teams like the Nuggets and Nets, who were linked to the veteran guard, will have to look elsewhere for a potential upgrade on the wing.
Photo courtesy of USA Today Sports Images.