NOVEMBER 20: The trade is now official, according to the Timberwolves, who announced it in a press release. As expected, Johnson was sent to the Thunder along with the rights to Pokusevski in exchange for Rubio, the No. 25 pick, and the No. 28 pick. Oklahoma City also received the Timberwolves' 2024 second-round pick in the deal.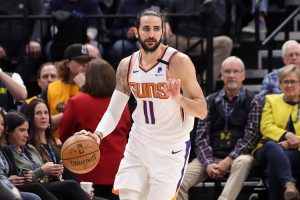 Minnesota subsequently flipped the No. 25 pick (Immanuel Quickley) to New York in a deal for Leandro Bolmaro (No. 23). The Wolves have also confirmed that trade.
---
NOVEMBER 19: Darren Wolfson of 5 Eyewitness News (Twitter link) confirms that Johnson will be a part of this deal for salary-matching purposes. The veteran forward will still need to pick up his option before he can officially be traded.
---
NOVEMBER 18: The Timberwolves will acquire point guard Ricky Rubio from the Thunder, along with the 25th and 28th picks in this year's draft, in exchange for the 17th selection, tweets ESPN's Adrian Wojnarowski.
Oklahoma City will receive Serbian 7-footer Aleksej Pokusevski, whom Minnesota selected at No. 17. The Thunder had expressed interest in Pokusevski throughout the past two weeks.
Although it hasn't been reported yet, James Johnson will likely have to be included in the deal to match salaries. Rubio will earn $17MM during the upcoming season, while Johnson has a $16MM player option that he is virtually certain to pick up.
The deal represents a homecoming for Rubio, who spent six seasons with the Wolves at the start of his career. He began looking for a trade after being sent to OKC in the Chris Paul deal and was receptive to the idea of returning to Minnesota. Rubio wants to help the Wolves get back to the playoffs, tweets Jon Krawczynski of The Athletic.
Rubio will share ball-handling duties in the Minnesota backcourt with D'Angelo Russell, who was acquired at the trade deadline, and will reunite with former teammate Karl-Anthony Towns.
In addition to the 25th and 28th picks, the Wolves also own the 33rd pick in tonight's second round. The Thunder, who have been stockpiling picks, will select again at 34 and 53.