8:07pm: The trade is official, per a Suns press release.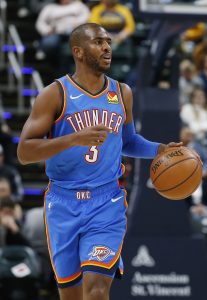 ---
12:11pm:  The Suns and Thunder are finalizing an agreement on a trade that will send All-Star point guard Chris Paul from Oklahoma City to Phoenix, reports ESPN's Adrian Wojnarowski (via Twitter).
According to Shams Charania of The Athletic (Twitter link), the Thunder will receive Ricky Rubio, Kelly Oubre, Ty Jerome, Jalen Lecque, and draft compensation in the deal. Wojnarowski adds that the Suns will also get Abdel Nader in the blockbuster swap (Twitter link).
The draft pick being sent from Phoenix to Oklahoma City in the trade is the Suns' 2022 first-rounder, per Wojnarowski. Charania reports (via Twitter) that the pick will be top-12 protected. If it doesn't change hands in 2022, it'll be top-10 protected in 2023, top-eight protected in 2024, and unprotected in 2025.
The Suns, whose interest in Paul was first reported last week, are hoping that the veteran guard can help the team build upon its 8-0 showing during the Orlando restart and make the postseason in 2020/21. Paul, who will reunite with his former Pelicans coach Monty Williams, will join an intriguing core that includes star guard Devin Booker, former No. 1 overall pick Deandre Ayton, and promising young wings Cameron Johnson and Mikal Bridges.
While bigger-market teams (like the Knicks) and stronger contenders (including the Bucks) were cited in recent weeks as potential suitors for CP3, the 35-year-old won't object to joining the Suns. The Thunder worked with Paul and his reps at CAA to get him to a preferred destination, per Woj (Twitter link). A report last week suggested that Phoenix's proximity to Los Angeles appealed to Paul, who has a home in the L.A. area.
Phoenix will complete the trade without using the No. 10 pick in this year's draft, so the club will have the opportunity on Wednesday to add another young prospect to that group. The Suns also have a couple different directions they could go in free agency.
Remaining over the cap and attempting to bring back Dario Saric and Aron Baynes is one option for the organization — the other would be to let those free agents go to open up cap room, then using up that space before officially finalizing the deal for CP3. In that scenario, Phoenix would only have the $4.8MM room exception left over, whereas if the team remains over the cap, the mid-level ($9.3MM) and bi-annual ($3.6MM) could be in play.
Meanwhile, the Thunder appear to be shifting into full-fledged rebuilding mode after outperforming expectations in 2019/20. They've now reached deals to move both Paul and Dennis Schröder. Steven Adams remains a trade candidate, as are the veterans Oklahoma City will receive in the two agreed-upon trades (Rubio, Oubre, and Danny Green).
Having acquired a pair of first-round picks and two future pick swaps in last year's Paul/Russell Westbrook trade, the Thunder were able to parlay CP3's strong season (17.6 PPG, 6.7 APG, 5.0 RPG) into yet another first-round selection. The franchise now owns three 2022 first-rounders and holds multiple first-round picks every year through 2026, as Tommy Beer of Forbes details (via Twitter).
By taking on Paul's contract, the Suns will be on the hook for his $41.4MM salary in 2020/21 and his $44.2MM player option for '21/22. Nader has a minimum salary for '20/21 which will remain non-guaranteed even after his team option is exercised to complete this trade.
As for the Thunder, they'll take on Oubre's expiring $14.4MM salary and will be on the hook for $34.8MM over two years for Rubio. Jerome, who has a $2.3MM cap charge in 2020/21, is in the second year of a rookie scale contract, while Lecque has a guaranteed $1.5MM salary for '20/21 and a non-guaranteed $1.8MM for '21/22.
Photo courtesy of USA Today Sports Images.