DECEMBER 3: The Lakers have officially announced James's contract extension in a press release.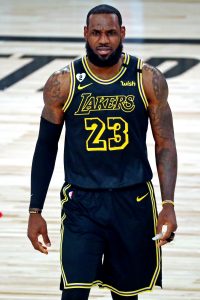 "LeBron James is a transcendent basketball player, and human being," GM Rob Pelinka said in a statement. "LeBron put his trust in the Lakers in 2018, and now this contract extension paves the way for LeBron to further solidify his legacy as an all-time Lakers great. We could not be more honored by this commitment."
---
DECEMBER 2: The Lakers and LeBron James have agreed to terms on a two-year, maximum-salary contract extension, agent Rich Paul of Klutch Sports tells Shams Charania of The Athletic (Twitter link).
Chris Haynes of Yahoo Sports confirms (via Twitter) that an extension agreement is in place and that it will run through 2023. That means the new deal has essentially replaced LeBron's 2021/22 player option with a guaranteed season and tacked one extra year onto his contract.
James, who has a $39,219,566 salary for 2020/21, can receive a 5% raise on that figure for the first year of his extension, which would result in a '21/22 salary of $41,180,544, notes ESPN's Bobby Marks (Twitter link). He can then receive an 8% raise for year two, which means a '22/23 salary of $44,479,988. The end result would be a two-year extension worth about $85.66MM.
Assuming James prioritized maximizing his future earnings, his extension won't include a player option for 2022/23.
As cap expert Albert Nahmad explains (via Twitter), the extension can only have included a new player option if LeBron technically picked up his existing '21/22 option (worth $41,002,274) as part of the deal, which would limit the amount of his raise for '22/23. CBA rules prohibit him from declining that option and then signing an extension that includes fewer than two guaranteed seasons.
Either way, LeBron will no longer be eligible to opt out in 2021, taking one huge name off next year's free agent market. It's not clear whether James' extension will influence what Anthony Davis's next contract looks like — ESPN's Brian Windhorst says the Lakers' two superstars are making their decisions independent of one another.
As Charania (Twitter link) and others have noted, LeBron's son Bronny James is scheduled to graduate high school in 2023. If the NBA and NBPA have agreed to scrap the one-and-done rule by that point, it could open the door for Bronny to enter the 2023 draft and team up with LeBron during the '23/24 season.
The elder James will turn 36 years old later this month, but has shown no signs of slowing down yet. In 2019/20, he averaged 25.3 PPG and 7.8 RPG to go along with a league-high 10.2 APG in 67 games (34.6 MPG). He earned First Team All-NBA honors, finished second in MVP voting, led the Lakers to a championship, and won his fourth NBA Finals MVP award.
Photo courtesy of USA Today Sports Images.