When Vince Carter officially called it a career and announced his retirement earlier his year, it meant the NBA had a new elder statesman. Having re-signed with the Heat for the coming season, 40-year-old big man Udonis Haslem currently holds the title of oldest active player on a roster for 2020/21.
While Haslem is back in action for another year, many of the NBA's other oldest players haven't found new homes after being on rosters last season. Jamal Crawford, Pau Gasol, Kyle Korver, Tyson Chandler, Thabo Sefolosha, J.J. Barea, Anthony Tolliver, and Taj Gibson are among the players currently on the free agent market who would be among the 10 oldest players in the league if they were to sign a new contract.
I expect we'll see a few of those guys playing in the NBA this season, but for the time being, here's the full list of the 10 oldest players on NBA rosters, led by Haslem: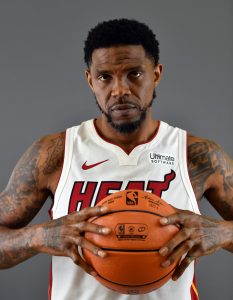 On the other end of the spectrum, the NBA's top 10 youngest active players were all selected in the 2020 draft, with eight coming off the board in the top 20 picks.
A number of young undrafted free agents have gone right from college to an NBA roster within the last month, but the youngest of 2020's rookies are the ones who declared for the draft in their first year of eligibility — and many of the earliest of this year's early entrants were strong enough prospects to be drafted.

A year ago, Pistons rookie Sekou Doumbouya – born on December, 23, 2000 – was the NBA's youngest player. This year, the top 10 all have 2001 birth dates.
Here are the 10 youngest players currently on NBA rosters:
---
Photo courtesy of USA Today Sports Images.