Throughout the season, Hoops Rumors takes a closer look at players who will be free agents or could become free agents this off-season. We examine if their stock is rising or falling due to performance and other factors. This week, we take a look at players from the Atlantic Division: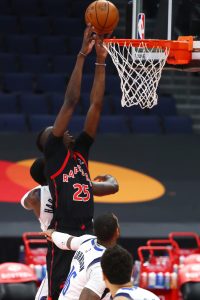 Chris Boucher, Raptors, 28, PF/C (Up) – Signed to a two-year, $13.5MM deal in 2020
Boucher has a non-guaranteed $7MM salary for next season. The Raptors will have to decide in August whether to retain him. Right now, that decision is a no-brainer. Boucher has been one of the league's top reserves, averaging 15.6 PPG and 6.6 RPG in 23.8 MPG through 14 games. He ranks third in the league in blocks (2.4) despite his second-unit status. He's even developed a 3-point shot (48.1%). It will difficult for Boucher to sustain this pace but he's doing more than enough to convince the front office to prevent him from entering free agency.
Dennis Smith Jr., Knicks, 23, PG (Down) – Signed to a four-year, $17.2MM deal in 2017
New coach Tom Thibodeau talked up Smith during training camp, saying "he's gotten better and better." That talk quickly died down. Smith has been a non-factor this season, in part because of a quad injury. There's doesn't seem to be any path to playing time with Immanuel Quickley establishing himself as one of the league's top rookies. It's been a steady decline for Smith, who started 69 games in his rookie year with Dallas and averaged 15.2 PPG. New York would have to extend a qualifying offer of $7MM+ to retain him. That's not happening.
Furkan Korkmaz, Sixers, 23, SF/SG (Down) – Signed to a two-year, $3.4MM deal in 2019
An unrestricted free agent after the season, Korkmaz was sidelined by an adductor strain late last month. He just returned to action on Wednesday, scoring seven points in 20 minutes against the Celtics. He made just two of nine field-goal attempts on Friday. As a second-unit player, Korkmaz must reestablish himself as a steady 3-point threat to hold onto his rotation spot under new coach Doc Rivers. He made 40.2% of his shots beyond the arc last season when his role expanded. He needs to get back into a 3-point rhythm quickly or risk becoming a spectator the second half of the season.
Daniel Theis, Celtics, 28, PF/C (Up) – Signed to a two-year, $10MM deal in 2019
Theis became increasingly important to the club last season, when he started 64 regular-season games and all 17 of its postseason contests in Orlando. His ability to guard pick-and-rolls and switch make him a key component in the Celtics' defense. He'll likely come off the bench with Kemba Walker back in action and Brad Stevens going with a smaller lineup. That didn't faze Theis on Wednesday, as he racked up 23 points and 10 rebounds in 27 minutes against Philadelphia. He shouldn't have any trouble getting a healthy raise in free agency this summer.
Photo courtesy of USA Today Sports Images.