Driven by veteran leadership and featuring several high-level young players, the G League Ignite are finally ready to tip off their inaugural season, with games set to begin on Wednesday in a familiar bubble format at Walt Disney World in Florida.

The Ignite, founded as a development program by the NBA last year, possess a unique roster: veterans Jarrett Jack, Amir Johnson, Reggie Hearn, Donta Hall, Bobby Brown, Brandon Ashley, Cody Demps, and Jessie Govan will play alongside young prospects Jalen Green, Jonathan Kuminga, Isaiah Todd, Daishen Nix, Kai Sotto, and Princepal Singh. It's an intriguing mix that has quickly gelled during its time together, led by former NBA head coach Brian Shaw.
"Jarrett Jack, Amir, Donta, Reggie, Bobby Brown, Brandon Ashley, Cody Demps — they're all like big bros to us," said Green, a projected 2021 lottery pick. "They get on us when we're not doing good, they talk to us, watch film with us, talk about life with us. We connect with them on that level. It's been very helpful just to have someone there that we call a big bro."
A professional alternative to college basketball, this program aims to give young players like Green unique training and education — both on and off the court — to ensure they're prepared for the road that lies ahead. They learn from veterans, participate in essential life programs coordinated by the G League, and compete against other professionals, all while being eligible to earn up to $500K in salary, depending on the specific terms of their contract.
Green became the first player to join the Ignite back in April 2020, bypassing top schools such as Auburn, Memphis and Oregon. Soon after his announcement, fellow five-star recruits Todd and Nix also formally committed to the Ignite, with the 7'3″ Sotto making his decision to leave the Philippines and join the team a short time later. Kuminga, who was touted as the top player in the class of 2021, re-classified to the class of 2020 and fortified the Ignite's young core by signing in July. Singh joined shortly thereafter.
"I think everybody understands that our team is unique in terms of the other G League teams. We're not a feeder team for one particular NBA team," Shaw said. "So, in terms of that, even though our title is the 'G League Ignite,' we're not a 'G League' team, per se. This team was specifically created for this pilot program to develop and teach these young guys how to be professionals on and off the court. 
"Everyone here was kind of hand-selected and pieced together to fit as best possible. That part has been nice because I think the group of veterans we have fit seamlessly with the young guys we have. They all like each other. They've all been good teammates to each other. It's been a pleasure to coach them all."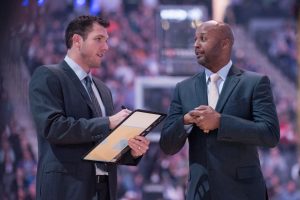 Shaw started his coaching career as an assistant with the Lakers in 2004. The run included two NBA championships and lasted until 2011, when he left to join the Pacers' coaching staff. Shaw helped guide Indiana to Eastern Conference Finals berths in 2012 and 2013, then served as head coach of the Nuggets from 2013-15 before returning to the Lakers as an associate head coach for the next three seasons. He was hired as the Ignite's first coach last summer. 
Simply put, the man knows basketball, but he also recognizes the importance of giving back. Shaw entered the league in 1988 as part of a veteran-laden Celtics team, with future Hall-of-Famers such as Larry Bird, Kevin McHale, and Robert Parish showing him the ropes as a rookie. The process has continued with the Ignite this year, where veterans have done their best to assist young players as the regular season nears.
"For us young guys, it was great having a steady core of veterans to teach us the right way to do things — how to have some longevity in the league, eat right, take care of your body and things of that nature," Shaw explained. "In putting this whole thing together, it was important to get the right veterans to do the same thing for these young guys."
The Ignite added veterans in waves. Johnson, Hearn, Brown, Demps and Ashley joined the team in November, with Jack and Hall coming aboard in January and Govan filling out the roster last week. The final two additions are certainly noteworthy; Jack holds 13 years of NBA experience, while Hall logged NBA minutes with the Pistons and Nets last season. Hall played with Brooklyn during the 2020 summer restart, meaning he's back for a second stay at the Disney bubble, a subject his teammates constantly joke about with him.
"I feel like the talent around, the up-and-coming (ability) of these guys is just amazing," Hall said of his teammates. "And we have Coach Shaw. I'm telling you, the man is intelligent with the game. And he breaks it down so simple for the guys. Even me, I'm still learning small aspects of the game. He's been in (coaching) about 13, 14 years. It might be even longer than that. But I've been picking his brain a little bit also. I'm learning the game just like the rest of us. The whole process has been great."
Despite being 23 years old and the youngest veteran on the team, Hall holds valuable experience — and he's eager to help his teammates in any way possible. The 6'10" big man might have been thrown into the mix late, but that hasn't stopped him from sharing any knowledge he can.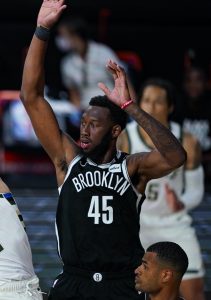 "When I first got here, it was nothing but love," Hall said. "I was getting my brain picked about small stuff I do on and off the court. Especially guys like JG (Green), Prince (Singh), IT (Todd), and those guys, asking me a couple questions and stuff. It's good that I can be there. I've experienced (the NBA) for a year or so now. I've been through the upper league and the G League, stuff of that nature."
The Ignite initially began training in Walnut Creek, California back in August. The team started without its veterans, but as they arrived, things started to change. Like all new teams, the Ignite required a feeling-out process. After all, this wasn't just the first time most of the players were sharing the court together — it was the first time most had even met one another.
"At first, I think the young guys were a little shy," Shaw recalled. "They kind of kept to themselves. But as they started working with the vets, started developing a little bit more trust and started opening up and sharing things — they've all kind of gravitated toward different vets at different times — but it's been really organic, the way that it's come together. 
"I haven't had to script anything or premeditate any messaging that I want the veterans to get across to the young guys. They've just kind of done it organically and naturally. When they see an opportunity to jump in and make a point of saying something on the court, they do it."
When the team first began its workouts, young players mostly held individual sessions. But as the veterans joined and the bubble continued to near, practices were gradually ramped up. The competitive fire of both the veterans and prospects increased, with scrimmages later being introduced to the schedule.
"It gets very intense," Green said. "We talk trash. My team always wins for sure, though."
Even as the intensity of practices and scrimmages has escalated, the goals have remained the same: make sure the team is ready for Disney, but at the same time, keep an eye on the future by ensuring each young player is mentally and physically prepared for what comes next. Some veterans may be looking to prove they still have something left in the tank, but that hasn't interfered with those overarching goals.

As Shaw noted, different players have gravitated to different veterans to this point. One veteran from whom Green has frequently sought advice is Hearn, a 29-year-old otherwise referred to as "Uncle Reg" by his teammates (don't believe us, check out this recent social media post by the man himself). This is Hearn's eighth season in the G League, making him one of the NBAGL's longest-tenured players — only four players have appeared in more career G League games than Hearn's 271.

"Uncle Reg was one of the first veterans here," Green said. "We got to connect on a good level. He was already open to sharing the problems that he went through and just trying to help us. So that was a big, cool thing for us, just so we could feel comfortable. With us in general, you know, they've been here before. They've been in this position. They just try to give us as much knowledge as they can."
As one of the first veterans to arrive, Hearn set the tone early. He embraced the role of a veteran leader and was always willing to give advice and pointers, sometimes in the middle of practice.

"When situations come up or I see various things that happen when we practice, if it's not right away pointing it out, I might take a guy aside afterward, show them particular things that I've seen and give them suggestions," Hearn explained, noting that the onus isn't just on the coaches to do this. "In both of those ways, like I've said before, help them to prepare for what the program is like. Help them transition from what I think is a very different style of ball in high school and AAU to what they need to be prepared for in the NBA."
This month's Disney bubble will provide most G League players with the opportunity to play in competitive games for the first time in several months — or even upwards of a year. COVID-19 has complicated the Ignite's plans, but it hasn't diminished the palpable energy within the team. Despite the wide gaps in age and experience among various members of the roster, the Ignite are a well-connected unit. 
"They're young, but they learn very, very quick," Hall said of his teammates. "Small things on and off the court. They love the game, they study the game — stuff they should and shouldn't do — they already know things of that nature. With them picking our brain and stuff like that, it also helps them in the long run."
"Most of what any of us learned comes from what we've seen or been taught," Hearn added. "So, as a leader, someone has taught me. I would be neglecting the natural chain of events, the natural way of things moving if I didn't try to teach what I know. Hopefully the guys can take some of the best of what I do and say, along with some of the best of what other vets do and say and combine it all. 
"Going forward into these games, I would hope some of the things we've been saying to them will stick in their mind. Hopefully we could get them into pretty solid routines and habits that will just naturally come out when they play. Most people will tell you that when you're out there on the court, most things are subconscious and instinctual. So we're going to see what's been sticking with them once we get out on the court. We're going to see what's come out based on what we've practiced."
At long last, the Ignite are ready to show what they're about. The condensed G League season officially starts on Wednesday, and the Ignite will tip things off later this morning with a matchup against Jeremy Lin and the Santa Cruz Warriors.

Each team will play a total of 15 regular-season games between February 10 and March 6, with the top eight teams advancing to a single-elimination playoff tournament from there.

"My mindset is locked in on that championship," a confident Green said. "I'm very happy with where our team is right now and how much we've grown together. We're just locked in."
---
Photos courtesy of USA Today Sports Images.