9:35am: Minnesota has officially announced Finch as its new head coach.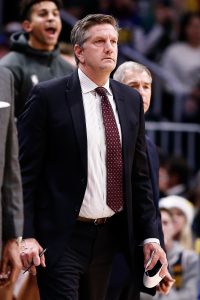 "I would like to thank Glen Taylor and Gersson Rosas for this incredible opportunity to be the head coach of the Minnesota Timberwolves," Finch said. "I look forward to working hand and hand with Gersson to build and lead a team that Timberwolves fans will be proud of. We have excellent pieces in place and I can't wait to get to work."
---
5:43am: The Timberwolves have parted ways with head coach Ryan Saunders, the team announced in a press release late on Sunday night. ESPN's Adrian Wojnarowski first reported Saunders' dismissal.
"We would like to thank Ryan for his time and commitment to the Timberwolves organization and wish him the best in the future," Wolves president of basketball operations Gersson Rosas said in a statement. "These are difficult decisions to make, however this change is in the best interest of the organization's short and long-term goals."
According to Shams Charania of The Athletic and Wojnarowski, Minnesota already has a replacement lined up for Saunders, having reached a deal to hire Raptors assistant Chris Finch. The two sides are finalizing a multiyear contract that will make him the Wolves' permanent head coach rather than an interim replacement.
Saunders, who took the reins on Minnesota's sidelines following Tom Thibodeau's exit from the franchise in 2018/19, compiled a 43-94 (.314) record across parts of three seasons with the team. Those Wolves clubs were plagued by injuries, with franchise center Karl-Anthony Towns missing 54 of Saunders' 137 games with the team, but underperformed even when healthy, finishing 14th in the West a year ago and ranking last in the conference so far this year.
Finch, meanwhile, has interviewed for multiple head coaching jobs in recent years, but will be getting an opportunity to run his own NBA team for the first time. He did have a stint as a G League head coach with the Rio Grande Valley Vipers from 2009-11 and won an NBAGL title with the club before becoming an assistant for the Rockets from 2011-16. Rosas was part of Houston's front office during that time, giving him a familiarity with Finch.
Since leaving the Rockets, Finch has been an associate head coach for the Nuggets (2016-17), Pelicans (2017-20), and Raptors (2020-21). He has a reputation of improving teams' offenses, as Blake Murphy of The Athletic observes.
According to Wojnarowski, Finch is expected to officially begin the job on Tuesday when the Wolves play the Bucks in Milwaukee, and is expected to keep the team's coaching staff intact for the time being. That staff includes associate head coach David Vanterpool and assistants Bryan Gates and Pablo Prigioni, Woj notes.
Hiring another team's assistant coach after making an in-season coaching change is fairly unusual for an NBA team, according to Wojnarowski, who says it hasn't happened since Memphis hired Lionel Hollins away from Milwaukee in 2009. Murphy suggests (via Twitter) that Toronto is probably more likely to promote a coach from the Raptors 905 once the G League season ends than to bring in someone from outside the organization to replace Finch on Nick Nurse's staff.
Photo courtesy of USA Today Sports Images.