After playing limited minutes as a rookie, Timberwolves guard Jaylen Nowell has established himself as a regular rotation player in his second professional season. But the 21-year-old still remembers his "welcome to the NBA" moment, when he went up against Russell Westbrook during the last game of Minnesota's 2019/20 season.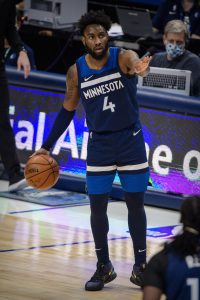 "He was one of my favorite players in the league," Nowell told Hoops Rumors in a phone interview. "Ended up guarding him and once that happened and once that happened in my head while I'm guarding him, I'm like, 'Wow this is crazy I'm really going against this dude that I've been watching on TV for years now.' I'd say that was my welcome to the NBA moment for sure."
While fighting to earn more playing time in his second season, Nowell has adjusted to new protocols and routines both during and between games, as the NBA navigates the ongoing coronavirus pandemic.
"It's been really crazy," Nowell said of the 2020/21 campaign. "I actually forgot at a certain point that this is not how the regular NBA is."
Nowell, who is averaging nearly 10 points per game this season, enjoyed a career night on Thursday in New Orleans to begin the second half. The 2019 second-round pick scored 28 points on 11-of-13 shooting from the field and 6-of-7 shooting from three-point range, adding six assists and five rebounds — and he did it all off the bench in just 28 minutes.
"It felt great," Nowell said. "I felt really comfortable out there. I was bringing the ball up a lot, initiating the plays, so I kind of got to get into a rhythm without even shooting it."
The performance came in a 135-105 victory over the Pelicans, which was the Timberwolves' first win in nearly a month.
"That was amazing," he said. "I honestly forgot what it felt like to come back to the winning locker room. It was definitely something we needed and to have it the first game after the All-Star break, it's amazing. Hopefully we can keep this going."
Last weekend's All-Star festivities provided a much-needed break not only for a Timberwolves squad that had lost 13 of its last 14 games, but also for Nowell, who traveled to Seattle to see his family.
Before the break, the Timberwolves made a drastic in-season move, firing head coach Ryan Saunders and replacing him with Raptors assistant coach Chris Finch. While that sort of shake-up would throw some second-year players for a loop, Nowell isn't unfamiliar with adjusting to a coaching change, having experienced one during his college recruitment process. Lorenzo Romar, the coach who recruited him to the University of Washington, had been replaced by Mike Hopkins by the time he began his college career.
"I'm kind of used to it," Nowell said. "I wasn't playing there, but it was a coaching change nonetheless. It was the year before I came in, so I was affected by it. I've dealt with it before."
When Finch was hired, he spoke about simplifying and streamlining the Timberwolves' schemes. According to Nowell, the team isn't running a lot of plays and has been relying on the players to make more reads.
"We've been getting to show off our skills," he said. "Not just for me individually, but as a team. It's making us complement each other's game more."
Even though the Wolves have the youngest roster in the NBA, they possess an exciting mix of max-contract players, vets and youth. Nowell grew up watching a lot of the guys he now calls teammates.
"I used to watch guys like Ricky Rubio, Ed Davis, KAT (Karl-Anthony Towns), D'Angelo Russell," he said. "I used to watch all these guys before I was even in the league. To call them my teammates, that's already an accomplishment in itself. That's been great, and being able to actually be around them and talk to them and see how they work and see how they approach the game that's been great for me. I've just been watching and learning and trying to absorb everything and anything from them."
Nowell has learned up close from Russell by watching the way he plays during games and by talking to him one-on-one.
"He's an All-Star, so whatever he's doing, it's right," Nowell said of Russell. "Every single game I've been watching how he picks spots; when he decides to shoot; when he decides to move the ball. I've been talking to him one-on-one about the point guard, how to facilitate, how to get guys in spots to put them in the best position for them to score not just myself."
Nowell, who wants to continue to facilitate the ball at a high level by getting his teammates involved, believes the Timberwolves are making fewer mistakes than they did at the beginning of the year and envisions a strong finish to the team's season. At 8-29, there's nowhere for Minnesota to go but up.
Photo courtesy of USA Today Sports Images.