The Spurs and LaMarcus Aldridge have reached an agreement to part ways, tweets Shams Charania of The Athletic. Coach Gregg Popovich broke the news tonight on a pre-game Zoom call with reporters, saying, "We've mutually agreed for him to work on some opportunities elsewhere." (Twitter link from Tim MacMahon of ESPN)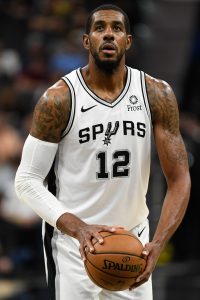 Aldridge's departure could take the form of a trade, according to ESPN's Adrian Wojnarowski, who reports that San Antonio is working on trade scenarios for the veteran big man and has been "engaged on several fronts" (Twitter link). The Spurs are confident that they can find a trade partner, possibly within the next week, and no move has been made toward a buyout, sources tell Woj (Twitter link).
Aldridge, 35, lost his starting job last month and was coming off the bench for the first time since his rookie season. He's averaging 13.7 points and 4.5 rebounds per game while shooting 36% from three-point range, but the emergence of Jakob Poeltl has made him expendable.
Popovich explained that Aldridge has accepted his new role, but the organization believes he would be better off somewhere else.
"He's been a great teammate, there's no problem there," Popovich said. "We just think this is a win-win for LaMarcus and the club. When an opportunity arises, that will be up to management, his agent and we will all move forward." (Twitter link from Tom Orsborn of The San Antonio Express News)
Aldridge is making $24MM this season in the final year of his contract, so it won't be easy for another team to match salaries in a deal.
Ira Winderman of The Sun-Sentinel notes that Heat president Pat Riley tried to lure Aldridge as a free agent in 2015, but didn't have enough cap room to make a competitive offer (Twitter link). Winderman suggests (via Twitter) that some combination of Meyers Leonard, Kelly Olynyk and Andre Iguodala would work salary-wise, but Miami would likely have to throw in another asset to get the Spurs' interest.
Photo courtesy of USA Today Sports Images.