Since the NBA's 10-day signing window for the 2020/21 season officially opened in February, a total of 54 separate 10-day deals have been finalized. Many of those signings have be completed since the trade deadline passed a month ago — 36 10-day contracts have been signed in April alone.
With so much action on the 10-day market, we're taking a little time today to check in on the 10-day deals that are still active, exploring which of those players are eligible for additional 10-day contracts and which teams are still shuttling players in and out of their back-end roster spots.
Here, with the help of our 10-day tracker and our roster counts page, are the players on active 10-day deals:
---
Players on their first 10-day contracts: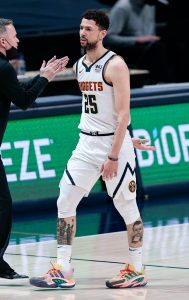 These players will all be eligible for a second 10-day contract once their current deals expire. In the case of Brown, it's possible the Thunder would just sign him to a rest-of-season deal if they're comfortable keeping him around, since a second 10-day deal would run through at least May 14. The regular season ends on May 16.
---
Players on their second 10-day contracts:
These players won't be eligible for a new 10-day contract when their current deals expire, since a player can't sign three 10-day deals with the same team in a single season. It's a safe bet that some of these players will receive rest-of-season contracts though — I'd be shocked if the Raptors let Gillespie get away, for instance.
Any team here that opts not to re-sign a player to a rest-of-season contract would open up a roster spot, which could be used on another 10-day trial before the regular season ends. Golden State and Portland are carrying just 14 players at the moment, so they'd have each two open roster spots if they don't re-sign Payton and Hollis-Jefferson, respectively.
---
There are a handful of other teams that could still take advantage of the 10-day contract before the end of the season. The Heat, Timberwolves, Pelicans, Kings, Spurs, and Wizards all have at least one open roster spot.
The Heat and Pelicans are right up against the luxury tax line and may be done with 10-days for the season, preferring rest-of-season commitments if and when they fill their roster openings. The Wolves, Spurs, and Wizards may end up going that route too, but for now they're still decent candidates for 10-day signings.
The Kings, meanwhile, had Damian Jones on a pair of 10-day contracts before his second deal expired on Monday night. Head coach Luke Walton spoke positively about Jones' contributions to the team, as Jason Anderson of The Sacramento Bee relays (via Twitter), so the veteran center could end up getting a rest-of-season contract. If so, Sacramento would have a full roster and would likely be done with 10-days for the season.
Photo courtesy of USA Today Sports Images.