Former NBA star Dwyane Wade has purchased a minority ownership stake in the Jazz, according to ESPN's Adrian Wojnarowski, who reports that Wade plans to "take an active role in the franchise and region." While it's unclear how sizeable Wade's share is, Wojnarowski says that NBA rules prevent an ownership stake from being smaller than 1%.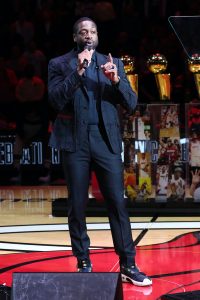 The Jazz confirmed Wade's investment in a press release.
Wade is joining an ownership group led by Ryan Smith, who purchased a controlling stake in the Jazz from the Miller family in 2020. According to Wojnarowski, Wade met Smith shortly after his retirement as a player in 2019, and the two became fast friends.
"It wasn't like we wanted more partners; that wasn't what we were trying to do," Smith told ESPN. "I want to work with Dwyane on and off the court, on the business side, and so do our partners — because of who he is as a human being and what he's accomplished. Those are the kinds of people you want around."
Wade, who won three championships as a member of the Heat, has long talked about his interest in joining an NBA ownership group. While Miami would be an obvious fit, Wade didn't say whether he and the Heat had serious discussions about the possibility, per Wojnarowski.
Heat owner Micky Arison said in a pair of tweets that he and Wade had previously discussed the idea of having him join the team's ownership group, but that the veteran guard wasn't prepared to commit at that time. Arison wished Wade "good luck and much success" with the Jazz, adding that he'll always consider him a "Heat lifer."
"The respect that I have for that organization will not go anywhere, the love that I have for the (Heat) fans — that goes nowhere," Wade said. "But this is about the next phase of my life as an investor, a businessman, an entrepreneur. For me, this is an opportunity to grow."
Wade envisions having a role in the basketball side of the franchise, according to Wojnarowski, who notes that the former Heat star is good friends with Donovan Mitchell. Participating in free agent meetings or counseling individual players are ways that Wade could become involved with the club, Woj adds. The 39-year-old also hopes to contribute more than just his basketball knowledge.
"Unfortunately, people in my community don't get this opportunity, and I do not take it lightly to have this opportunity," Wade said. "To make real change, this is where you have to be — at the top — and Ryan knows that. I'm thankful for him, and I know too that I bring a lot to this partnership outside of just my basketball knowledge and skills."
Photo courtesy of USA Today Sports Images.