In his first game back after missing four games with right knee soreness, Nuggets guard Jamal Murray went down in the fourth quarter against Golden State on Monday with a non-contact left knee injury (video link).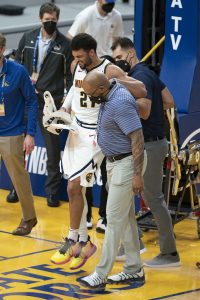 Murray, whose knee buckled as he attempted to take off for a layup, immediately fell to the floor in obvious pain, pounding the court with his hand. He eventually refused the wheelchair that had been brought onto the floor and hopped to the locker room without putting any weight on his left leg (video link).
The Nuggets didn't have an update on Murray's status after the game. Head coach Michael Malone indicated that the team is awaiting the results of an MRI, per Nick Friedell and Ohm Youngmisuk of ESPN.
"No definitive answer right now. We will wait for the imaging and go from there," Malone said. "Some of the (assistant) coaches said when they watched the replay it looked like he hyperextended it. He just came back (from his right knee injury), he was gone for four days. His (right) knee had been bothering him… just an awful feeling. Keep Jamal in your thoughts and prayers, and hopefully we will get some good news."
If Murray's injury is a serious one, it will be a devastating blow to a Nuggets team that has played some of its best basketball of the season in the last month or two. After starting the season with a modest 17-15 record, Denver won 17 of its next 20 games. The team has since dropped its last two and is now 34-20, good for fourth in the West.
Murray has been a key part of that success, averaging a career-best 21.2 PPG this season on .477/.408/.869 shooting in 48 games (35.5 MPG). Last season, he was the Nuggets' leading scorer in the playoffs with 26.5 PPG on a scorching .505/.453/.897 shooting line in 19 games (39.6 MPG).
"Y'all know what he means to us, he's 'the dude' — Nikola and Jamal," Michael Porter Jr. said of Murray, according to Friedell and Youngmisuk. "They brought this team to new heights. You talk about their closing all the time. We need Jamal … but we are more worried about his well-being right now, how he is individually than the team. The team right now is an afterthought."
We should learn more about Murray's injury at some point today.
Photo courtesy of USA Today Sports Images.