Nets big man LaMarcus Aldridge has retired as an NBA player, announcing his decision in a statement on Twitter. As Aldridge explains, he made the decision after experiencing an irregular heartbeat during his most recent game.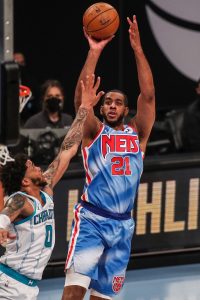 "Though I'm better now, what I felt with my heart that night was still one of the scariest things I've experienced," Aldridge said in his statement. "With that being said, I've made the difficult decision to retire from the NBA. For 15 years, I've put basketball first, and now, it is time to put my health and family first."
Aldridge's irregular heartbeat last Saturday wasn't the first time he has dealt with a heart-related health issue. He was diagnosed with Wolff-Parkinson-White syndrome as a rookie in 2007 and missed time in 2017 due to a hearth arrhythmia. Jeff McDonald of The San Antonio Express-News wrote more in '17 about Aldridge's heart history.
Aldridge, who gave up a significant chunk of his remaining 2020/21 salary in a buyout agreement with the Spurs last month, joined the Nets as a free agent in the hopes of earning his first championship ring. However, the 35-year-old was only able to appear in five games for Brooklyn before making the decision to call it a career.
Nets general manager Sean Marks said in a statement of his own today that the franchise fully supports Aldridge's decision, as Ian Begley of SNY.tv relays (via Twitter).
"While we value what he has brought to our team during his short time in Brooklyn, his health and well-being are far more important than the game of basketball," Marks said. "We know this was not an easy decision for him, but after careful consideration and consultation with numerous medical experts, he made the best decision for him, his family, and his life after basketball."
Aldridge, the second overall pick in the 2006 draft out of Texas, averaged 19.4 points and 8.2 rebounds in 1,029 career NBA regular season games for the Trail Blazers, Spurs, and Nets. He contributed 20.8 PPG and 8.5 RPG in another 72 postseason contests.
Aldridge was named to the NBA All-Star team seven times over the course of his 15-year career, earning All-NBA honors five times — twice as a member of the Second Team and three times as part of the Third Team.
While Aldridge's health is the Nets' primary concern for now, it's worth noting that his retirement will have a significant impact on Brooklyn's frontcourt rotation as the team pursues a title. Aldridge had started all five games he played for the club. Nicolas Claxton and DeAndre Jordan will handle the majority of the minutes at center with Aldridge no longer in the mix.
Whether or not Aldridge remains on Brooklyn's roster for the rest of the season, he'll earn his remaining salary, so the team will likely release him in a procedural move in order to sign a 15th man for the postseason.
Photo courtesy of USA Today Sports Images.