LaMelo Ball, Anthony Edwards, Tyrese Haliburton, Jae'Sean Tate and Saddiq Bey comprised this year's All-Rookie First Team, the NBA announced on Thursday in a press release.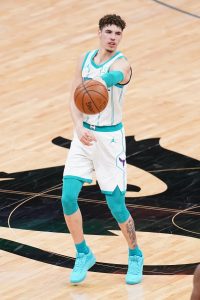 Ball, who was named Rookie of the Year on Thursday, led first-year NBA players in assists (6.1 APG) and steals (1.59 SPG) and ranked second in scoring (15.7 PPG) and rebounding (5.9 RPG) for the Hornets. Edwards, the No. 1 pick in the draft by the Timberwolves, averaged a rookie-high 19.3 PPG.
The Kings' Haliburton ranked third among rookies in scoring (13.0 PPG) and second in assists (5.3 APG). Bey, the 19th overall pick, made a rookie-high 175 three-pointers for the Pistons. Tate, who went undrafted in 2018 and played in Australia last season, averaged 11.3 PPG and 5.3 PPG for the Rockets.
Ball and Edwards were the only unanimous First Team selections, receiving 99 of 99 potential First Team votes. Haliburton got 98, while Bey had 63 and Tate received 57.
Knicks guard Immanuel Quickley narrowly missed out on the top five, having earned 51 votes for the First Team.
Here are both All-Rookie teams in full, with their voting point totals notes in parentheses. Players received two points for a First Team vote and one point for a Second Team vote.
2020/21 All-Rookie First Team:
2020/21 All-Rookie Second Team:
Nuggets guard Facundo Campazzo (42), Magic guard Cole Anthony (40), and Warriors center James Wiseman (24) were among the players who just missed the cut. Nine other players received votes — you can view the full voting results right here.