JUNE 28: Five days after his deal with the Celtics was first reported, Udoka has been officially announced as the team's new head coach. The organization issued a press release confirming the news.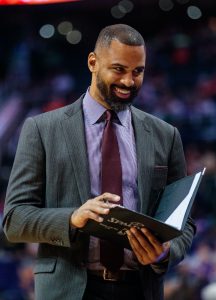 "I would like to welcome Ime, Nia, Kez, and Massai to the Boston Celtics. Among the many outstanding qualities that Ime brings to the table are his character, humility, and competitiveness. He has a relentless work ethic and a vast array of experiences as a player and coach," Stevens said in a statement. "He's a leader that is warm and demanding, and we are so excited that he has chosen to join us in pursuit of Banner 18."
---
JUNE 23: New Celtics president of basketball operations Brad Stevens has made a decision on his replacement, according to Adrian Wojnarowski of ESPN, who reports (via Twitter) that Boston is finalizing a deal to hire Nets assistant Ime Udoka as the team's new head coach.
Udoka, who appeared in over 300 NBA games as a player for the Lakers, Knicks, Blazers, Spurs, and Kings, transitioned into coaching following his retirement in 2012. He spent seven years as an assistant on Gregg Popovich's staff in San Antonio before joining the Sixers for the 2019/20 season. He was hired by the Nets last fall and focused on Brooklyn's defense as one of the top assistants on Steve Nash's staff.
Udoka has interviewed for several open head coaching positions in recent years, having been linked to the Bulls, Pacers, Knicks, and 76ers a year ago and to the Cavaliers in 2019. He was due for a shot at a top job and quickly separated himself from the Celtics' other candidates during the team's coaching search, tweets Wojnarowski.
According to Woj, a number of Celtics players who participated in the 2019 World Cup for Team USA were impressed by Udoka, who was an assistant on the U.S. staff. Jayson Tatum, Jaylen Brown, and Marcus Smart all played on that team.
The Celtics' head coaching job opened up three weeks ago when Danny Ainge stepped down from his position as the organization's president of basketball operations and Stevens was moved into that role. Stevens, who led the coaching search, has had a busy first month on the job — he also completed the first trade of the NBA offseason, sending Kemba Walker to Oklahoma City last week.
The Celtics are the first team to complete a head coaching search this offseason, ahead of the Mavericks, Pacers, Pelicans, Magic, Blazers, and Wizards.