6:45pm: Jokic was the runaway winner, per an official press release from the NBA.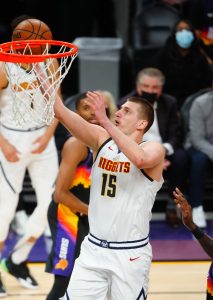 [RELATED: MVP Makes Jokic Eligible For Super-Max In 2022]
Jokic received 91 of 100 first-place votes and racked up 971 points. Embiid finished second despite receiving just one first-place vote; he had 586 points, aided by 62 second-place votes; Curry finished third with five first-place votes and 453 points.
Giannis Antetokounmpo and Chris Paul rounded out the top five finishers, while 10 other players received at least one vote. The only real surprise among that group was Derrick Rose, who, oddly, received a first-place vote.
---
4:39pm: Nuggets center Nikola Jokic has won the league's Most Valuable Player award, Shams Charania of The Athletic tweets.
Jokic averaged a career-high 26.4 points, 10.8 rebounds and 8.3 assists per game this season. In an era in which players are regularly given nights off for rest, Jokic showed his toughness and durability by appearing in all 72 regular-season games.
As the 41st selection in the 2014 draft, Jokic is by far the lowest draft pick to ever earn the honor. He's also the first Nuggets player to win the award.
Sixers center Joel Embiid and Warriors guard Stephen Curry were the other finalists for the award.
Embiid averaged 28.5 PPG and 1o.6 RPG but only appeared in 51 regular-season games, mainly due to a knee injury. Curry led the NBA in scoring at 32.0 PPG along with 5.8 APG while playing 63 games.
Photo courtesy of USA Today Sport Images.