12:15pm: The Pacers have officially announced in a press release that Bjorkgren won't be retained for the 2021/22 season.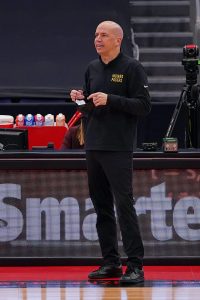 "The 2020/21 season was not what any of us hoped or anticipated it would be, and our results on the court certainly did not meet the standards for what our organization and our fans have come to expect," Pacers president of basketball operations Kevin Pritchard said in a statement.
"We have determined this is the right time to move in a different direction, and on behalf of the Simon Family and the entire Pacers organization, I want to express my gratitude to Nate for his efforts leading our team. While we do not have a definite timetable for our search, we will move quickly to identify candidates who will make our team and our organization stronger."
---
10:56am: The Pacers have decided to part ways with head coach Nate Bjorkgren after his first year on the job, sources tell Adrian Wojnarowski of ESPN (Twitter link).
According to Wojnarowski (Twitter link), Bjorkgren was informed today of the Pacers' decision to let him go after he met with management on Tuesday. The team intends to seek out a more experienced, established head coach to replace Bjorkgren, who lost the locker room and "much of the organization" this season, Wojnarowski adds.
The Pacers moved on from Nate McMillan a year ago after a fourth consecutive first-round playoff exit in the hopes of hiring a new coach who would modernize the team's offense and increase its ceiling. Although Bjorkgren did help improve Indiana's offense, the defense took a major step backward and the former Raptors assistant reportedly had major communication issues with players and coaches alike.
Multiple reports during the final weeks of the regular season indicated that Bjorkgren was on the hot seat, and failing to secure a playoff spot in the play-in tournament presumably didn't help his chances of sticking around.
Given how many injuries the Pacers dealt with during the 2020/21 campaign, it's unclear how much more another coach could've gotten out of the roster. And since Bjorkgren had one more guaranteed year on his contract, there was a belief that the small-market Pacers may prefer to give him another chance rather than having to commit financially to a second head coaching contract. However, it sounds like the issues with Bjorkgren were too widespread to make continuing the relationship a viable choice.
Indiana becomes the fourth team to enter the market for a new head coach this spring, joining Boston, Portland, and Orlando. Because they conducted an extensive search for a coach in 2020 before landing on Bjorkgren, the Pacers may already have a leg up in this year's search, having gotten familiar with several candidates who could be on their radar again. However, new candidates will be considered as well.
[RELATED: 2021 NBA Head Coaching Search Tracker]
One of those new candidates, who wasn't available a year ago, is former Blazers coach Terry Stotts. Chris Haynes of Yahoo Sports reports (via Twitter) that the Pacers are expected to take a look at Stotts, while Jake Fischer of Bleacher Report says (via Twitter) league sources have increasingly identified Stotts as a leading candidate for the job in Indiana. Josh Robbins of The Athletic previously reported that league sources expect the Pacers to interview Steve Clifford following his exit from Orlando.
As for Bjorkgren's future, Josh Lewenberg of TSN.ca tweets that he wouldn't be surprised if Nick Nurse's former assistant – and good friend – ends up returning to Toronto. The Raptors lost a top assistant midway through the 2020/21 season when Chris Finch was hired as Minnesota's head coach, and Nurse strongly defended Bjorkgren amidst last month's negative reports.
Photo courtesy of USA Today Sports Images.