The NBA has officially announced the voting results for its two 2020/21 All-Defensive teams.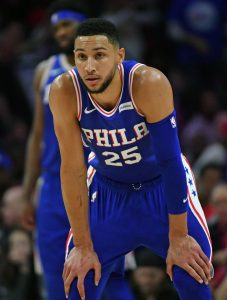 Jazz center Rudy Gobert, the Defensive Player of the Year for the third time in four seasons, and Sixers guard Ben Simmons were unanimous selections for the All-Defensive First Team. Both players made the First Team lists of all 100 tallied ballots, for a perfect total of 200 points. Votes are given to 100 media members.
This marks Gobert's fifth straight appearance on the All-Defensive First Team, and the second consecutive All-Defensive First Team honor for Simmons.
Warriors forward Draymond Green garnered 176 points (including 80 First Team votes). Green was named Defensive Player of the Year in the 2016/17 season. This year's nod is his fourth First Team honor, and his sixth total All-Defensive team.
Two Bucks players rounded out the All-Defensive First Team this season. Guard Jrue Holiday netted 157 points (65 First Team) and All-Star forward Giannis Antetokounmpo, the 2020 Defensive Player of the Year, earned 135 total points (43 First Team). Antetokounmpo has just made his third straight All-Defensive First Team, and his fourth All-Defensive team overall. This is Holiday's second All-Defensive First Team appearance and his third overall All-Defensive team.
[RELATED: Rudy Gobert Named Defensive Player Of The Year]
Two All-Defensive First-Teamers have unlocked contract bonuses associated with the honor. Bobby Marks of ESPN tweets that Gobert will receive a $500K bonus for the inclusion this season. Marks adds (Twitter link) that Holiday will pocket a cool $100K for making All-Defensive First Team. Holiday has other contract incentives associated with his team's further postseason advancement.
The All-Defensive Second Team honorees are led by Heat stars Bam Adebayo and Jimmy Butler, who each netted 111 points (37 First Team votes) apiece. Adebayo makes his second All-Defensive Second Team with the nod today. This is Butler's fifth such honor.
Simmons's Sixers teammates Joel Embiid and Matisse Thybulle also make the cut. It is the third All-Defensive team nod for Embiid and the first appearance for Thybulle. Clippers All-Star forward Kawhi Leonard, a former two-time Defensive Player of the Year, rounds out the All-Defensive Second Team this season.
Here are the full voting results for the All-Defensive First and Second Teams, with each player's point total noted in parentheses:
First Team:
Second Team:
Bam Adebayo, F, Heat (111)
Jimmy Butler, G, Heat (111)
Joel Embiid, C, Sixers (87)
Matisse Thybulle, G, Sixers (63)
Kawhi Leonard, F, Clippers (43)
Suns guard/forward Mikal Bridges, Hawks center Clint Capela, and Pacers forward/center Myles Turner were among the highest vote-getters who missed the cut for the Second Team. You can find the full voting results right here.
Photo courtesy of USA Today Sports Images.