7:09pm: The Pistons have officially drafted Cunningham.
---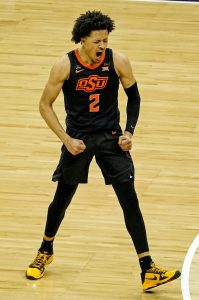 12:42pm: The Pistons have decided to select Oklahoma State guard Cade Cunningham with the top pick in tonight's draft, Adrian Wojnarowski of ESPN tweets.
That was the expected outcome ever since Detroit won the draft lottery, but apparently the final decision wasn't made until Thursday morning. Team officials traveled to New York on Wednesday to meet with Cunningham one more time, then finalized the decision to draft him during meetings earlier today, Wojnarowski reports in another tweet.
In a press conference earlier this week, Detroit general manager Troy Weaver said the team hadn't made a final decision on whether the team would choose Cunningham, with Jalen Green also still in the mix and trade offers coming in.
It's still not out of the question that the Pistons could trade the pick if they get an offer that's too good to refuse, but otherwise Cunningham will be in a Detroit uniform next season, according to Wojnarowski (Twitter link).
Cunningham has been the consensus top pick for months among draft experts and the Pistons continued to field trade inquiries leading up to the draft. He'll immediately become the face of a franchise that went into rebuild mode prior to the 2020 trade deadline, a process that accelerated when Weaver remade the roster after becoming the top executive in the franchise's front office.
Given his status as the likely top pick, Cunningham only visited the Pistons prior to the draft. Cunningham attended a Tigers game, met with the team's brass, and did a light workout early last week. He came away impressed by the team's front office and coaching staff, as well as the city.
"The organization has a lot of great people within it," Cunningham said last week. "I mean, starting from the owners, Troy Weaver is a great GM, and then, you know, all the way down. They got just great people throughout. So I learned a lot on my visit. If they take me, I'll definitely be excited to be there."