The Wizards have formally agreed to a four-year deal with Wes Unseld Jr. that makes him the team's new head coach, reports ESPN's Adrian Wojnarowski. The club put out a press release officially announcing the move.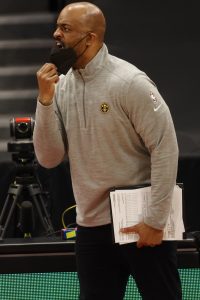 "Wes is one of the most highly-regarded assistant coaches in the NBA and clearly separated himself from the large and diverse group of candidates we considered," Wizards general manager Tommy Sheppard said in a statement. "His strong record as an in-game tactician along with his attention to detail on both sides of the ball, combined with his reputation for player development and outstanding character during his 20+ years of coaching left no doubt that he was the best choice to guide our team to the next level."
Unseld, who grew up in Maryland and attended Johns Hopkins from 1994-97, began his coaching career in 2005 in D.C. He spent six years as an assistant on the Wizards' staff from 2005-11 before moving on to coaching roles with the Warriors (2011-12), Magic (2012-15), and Nuggets (2015-present).
After promoting him to the role of Michael Malone's associate head coach a year ago, Denver reportedly made a significant push for Unseld to get his first head coaching job. He had been gaining steam as a candidate in Washington in recent weeks, and was reportedly offered the job by the Wizards on Friday, beating out Bucks assistants Charles Lee and Darvin Ham for the job.
Unseld Jr. is the son of Wes Unseld, who spent over 20 years as a Wizards coach and executive after playing for Washington/Baltimore for 13 seasons. The Hall-of-Famer passed away in 2020.
The younger Unseld will replace Scott Brooks on the sidelines for the Wizards. Brooks coached the team for five seasons, but didn't reach an agreement on a new contract after Washington was eliminated from the playoffs in the first round this spring.
The Pelicans are now the only team making a coaching change this offseason that hasn't yet announced its new head coach. However, Suns assistant Willie Green is on track to fill that vacancy.
A full breakdown of this year's coaching searches can be found right here.