Free agent wing DeMar DeRozan is expected to sign a three-year, $85MM contract with the Bulls, reports Shams Charania of The Athletic (Twitter links).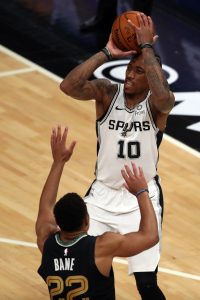 According to Charania, the Bulls and Spurs are finalizing a sign-and-trade deal that will send DeRozan to Chicago in exchange for Thaddeus Young, a future first-round pick, and two second-round picks. Al-Farouq Aminu will go to San Antonio in the deal too, per ESPN's Adrian Wojnarowski (Twitter link).
Wojnarowski also provides the details on the draft picks headed to the Spurs, reporting (via Twitter) that the future first-round pick will convey in 2025 at the earliest, since the Bulls owe their 2023 first-rounder to Orlando. The second-rounders Chicago is sending to San Antonio are the Lakers' 2022 pick and the Bulls' own 2025 pick, Woj adds.
Chris Haynes of Yahoo Sports (Twitter links), who first reported DeRozan was nearing a deal with Chicago, says his three-year deal will be fully guaranteed.
It's a fascinating turn of events for the Bulls and for DeRozan, who had reportedly been planning to meet with the Clippers despite their limited cap flexibility. Because acquiring a player via sign-and-trade hard-caps a team at the tax apron, a sign-and-trade for DeRozan likely wasn't an option for the Clippers, who project to be taxpayers.
However, the Bulls, who had already agreed to acquire Lonzo Ball via sign-and-trade and had two sizeable – and expendable – expiring contracts belonging to Young and Aminu, were in a far better position to make DeRozan an aggressive offer. And they did just that, agreeing to a deal that will add DeRozan to a core that now includes Zach LaVine, Nikola Vucevic, and Ball.
While DeRozan's lack of a three-point shot (he has made 35 in the last three seasons) is an oddity for a wing in the modern NBA, his mid-range game is deadly and he has become a legitimately dangerous play-maker, averaging a career-best 6.9 assists per game in 2020/21. Opponents will have a tough time stopping lineups featuring him, LaVine, and Vucevic, though it won't be the most stout group defensively.
Based on their reported moves, the Bulls still have about $19.5MM in breathing room below the tax and $26MM below the hard cap, according to ESPN's Bobby Marks, who notes (via Twitter) that the team still holds Lauri Markkanen's Bird rights.
The Spurs, who have free agent deals in place with Zach Collins and Doug McDermott, still have about $6MM in projected cap space to work with, Marks adds.