When Lauri Markkanen finally came off the board over the weekend, it left just two standard restricted free agents who are still unsigned, as our FA list shows. Both of those players are Timberwolves free agents: Jordan McLaughlin and Jarred Vanderbilt.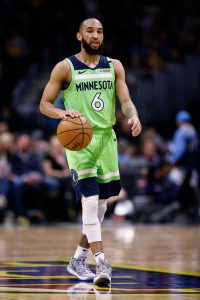 Restricted free agents never have a ton of leverage, especially this deep into the offseason. Some players who remain on the market for weeks, like Markkanen, can still land player-friendly deals, but if McLaughlin or Vanderbilt have been drawing interest around the NBA as coveted sign-and-trade candidates or potential offer sheet recipients, we probably would've heard about it by now.
McLaughlin looked like he might be in position to secure a favorable commitment from the Timberwolves after the team traded Ricky Rubio to Cleveland, but Minnesota's recent move to acquire Patrick Beverley adds depth to the point guard spot and clouds McLaughlin's future.
A year ago, McLaughlin ultimately decided to accept his qualifying offer and play on a two-way contract for a second consecutive season. This time around, his QO is the equivalent of a one-year, minimum-salary deal, but only a very small portion of that offer (about $84K) has to be guaranteed, so accepting it isn't a great option.
The Wolves are likely willing to offer a more significant guarantee in 2021/22, but probably want to tack on at least one or two non-guaranteed, minimum-salary years to any deal for McLaughlin. With two-way player McKinley Wright in the picture as a potential third point guard, Minnesota has the roster flexibility to play hardball in its negotiations with McLaughlin.
Vanderbilt may be in a slightly better negotiating position, since he's likely a higher priority for the Wolves. He started 30 games last season, earning a regular rotation role and showing the ability to handle minutes at power forward, the team's most glaring weak spot.
Minnesota has a few options at the four, but Taurean Prince and Jake Layman won't move the needle much, and Jaden McDaniels remains pretty raw. Vanderbilt would be a useful depth piece at the right price, which – in the Wolves' view – is probably something not far above the veteran's minimum.
As we wait to see what happens with McLaughlin and Vanderbilt, it's also worth noting that there are technically four other restricted free agents still on the market. The following four players were made RFAs after finishing the season on two-way contracts:
For these four players, accepting a qualifying offer would mean getting another two-way contract with a $50K partial guarantee.
Signing that qualifying offer would provide no security, even though the Spurs, Clippers, Rockets, and Cavaliers do all have two-way slots open right now. Given the modest guarantee, a team likely wouldn't hesitate to replace one of its two-way players in October with a camp invitee who has an impressive preseason. And as McLaughlin's situation shows, even playing out a second year on a two-way QO wouldn't necessarily give a player additional leverage in his next foray into restricted free agency.