5:09pm: The Raptors have officially announced Ujiri's new deal and new title, announcing in a press release that he has signed a multiyear contract to become the team's vice chairman and president.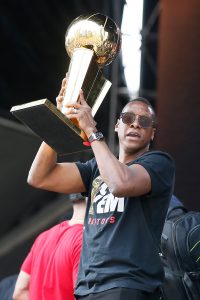 "Great sportsmen impact their games. Great leaders impact their communities. Masai Ujiri does both, and we're very pleased he is returning to the Raptors as vice-chairman and president," Maple Leaf Sports and Entertainment chairman Larry Tanenbaum said in a statement. "Masai and MLSE share the goals of bringing another NBA Championship to Toronto, and off the court, working towards making our city, country and world a better place. These are exciting times, and we look forward to all that comes next for our team, for Masai and for his family. Masai, we're glad you're staying home."
---
1:29pm: The Raptors are losing six-time All-Star Kyle Lowry to the Heat this week, but they've reached an agreement to lock up their other key free agent, reports ESPN's Adrian Wojnarowski (via Twitter).
According to Wojnarowski, Toronto's president of basketball operations Masai Ujiri has agreed to a "significant" new deal with the franchise that will give him the title of vice chairman in addition to team president. The Raptors posted a video to their Twitter account alluding to the new deal with Ujiri, whose previous contract had been about to expire.
"I love being the leader of the Toronto Raptors and I'm here to stay," Ujiri said in the video.
Ujiri, who won the NBA's Executive of the Year award in 2013 with the Nuggets, was hired as the Raptors' head of basketball operations that same year and spearheaded the turnaround of a club that had missed the playoffs in five straight seasons prior to his arrival.
Ujiri and his front office have displayed a knack over the years of finding hidden gems in the draft class, including Pascal Siakam (No. 27 pick), Norman Powell (No. 46 pick), and Fred VanVleet (undrafted free agent). He also memorably acquired Kawhi Leonard from the Spurs during the 2018 offseason, a move that pushed the Raptors over the top for the first championship in team history.
There was some uncertainty about what Ujiri's future held when he didn't agree to an extension with the Raptors a year or two before his contract expired, but he continued his usual work in the draft and free agency this summer, signaling that he had no plans to leave the organization. According to Wojnarowski (Twitter link), Ujiri is staying in Toronto despite being courted by multiple franchises "beyond (the) NBA's boundaries."