While the Sixers have tried to encourage Ben Simmons to show up for training camp next week, the three-time All-Star hasn't budged from his stance, reports ESPN's Adrian Wojnarowski.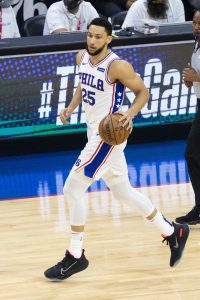 According to Wojnarowski, Simmons won't report for camp and intends not to play another game for Philadelphia. He hasn't spoken to the team at all since August, when he conveyed his plan not to attend training camp, Wojnarowski adds.
As Wojnarowski explains, Simmons is aware of the possible penalties he could face as a result of not attending camp, including fines and a suspension. However, he appears prepared to play hardball with the team, with the regular season just four weeks away.
Despite Simmons' strong stance, his leverage may be somewhat limited. He still has four years and $147MM left on his contract and Philadelphia probably has a playoff-caliber roster even without him on the court, which means the Sixers can afford to be relatively patient in finding a deal they like. If Simmons doesn't report, the team could recoup much of his salary via fines.
Sources told Kyle Neubeck of PhillyVoice.com on Monday that the 76ers were expecting "some sort of absence" from Simmons to open the preseason. However, Neubeck also says that most people believe the 25-year-old will eventually show up, given the unprecedented nature of a lengthy holdout in the modern NBA.
Philadelphia's asking price for Simmons was extremely high throughout the offseason, given his age, his résumé, and the fact that he's under contract for four more years. That price may come down a little now, but the Sixers appear unwilling to accept 50 cents on the dollar for a player like Simmons, who is limited by his lack of a jump shot but is still one of the league's best play-makers and defenders.
As Neubeck writes, the 76ers could probably get a deal done today if they were willing to accept a package heavy on young players and draft picks, but they remain focused on a return that won't compromise their ability to contend for a title in 2022.
"There are a few deals you could say, we do this, and we'll gamble that sometime later, we'll take draft picks and turn it back into having (a title) chance," one team source told Neubeck. "But why do that? … There's no reason to go get draft picks right now because you could just do it all at once. Why take the risk that you do that and you can't flip back out of it? It makes no sense with Joel (Embiid) in his prime."