When we entered the 2021 NBA offseason, a total of 24 players were eligible to sign rookie scale extensions. A handful of players signed them quickly, as Luka Doncic, Trae Young, and Shai Gilgeous-Alexander locked in new deals with their respective teams during the first few days of free agency. Robert Williams and Michael Porter Jr. joined them later in the offseason.
One of the 24 extension-eligible players (Chandler Hutchison) has been waived this offseason, so after removing him and the five with new deals from our list, we're left with 18 players who remain eligible to sign a rookie scale extension. The deadline falls on October 18 – the day before the regular season – at 5:00 pm CT.
It's not surprising that so many extension candidates are still waiting to see if they'll be able to land new deals. While maximum-salary contracts generally get done quickly, most other negotiations go down to the wire. A year ago, Kyle Kuzma signed a rookie scale extension a day before the deadline, then five more deals were completed on deadline day — all five of those deadline-day extensions ranged from $50-72MM in total value.
[RELATED: 2020 NBA Rookie Scale Extension Recap]
That doesn't necessarily mean that we can count on five or six more rookie scale extensions getting signed within the next two weeks, but it's certainly a possibility, with many viable candidates still out there.
Here's a quick breakdown of the remaining extension-eligible players:
---
Top extension candidates
These seven players have already proven they can be productive starters or rotation players at the NBA level and seem like good bets to be in their team's long-term plans. At the very least, we should count on these players engaging in extension negotiations with their respective teams prior to the October 18 deadline, even if they don't ultimately agree to terms.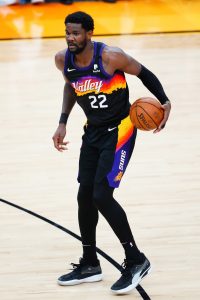 The Ayton and Mikal Bridges talks will be especially interesting to monitor. If Ayton doesn't get the maximum salary, he'll get something very close to it, while Bridges is probably in line for a deal worth at least $20MM+ per year. Signing both players to extensions would help the Suns lock in their long-term core, but it would also represent a major financial commitment from a team owner who has been stingy at times in the past.
I'll also be keeping a close eye on the Jackson, Huerter, and Walker talks. Jackson is coming off an injury-plagued season and may want to bet on himself if the Grizzlies try to get him to accept a team-friendly extension.
The Hawks will have De'Andre Hunter and Cam Reddish due for possible extensions in 2022, so it'll be interesting to see whether locking up Huerter now is a priority or if they'd rather wait until next year to assess all three situations at once.
As for Walker, the Spurs have made a habit of signing their young players to rookie scale extensions in recent years, having extended Dejounte Murray in 2019 and Derrick White in 2020. I expect they'll try to do the same with Walker.
Wild cards
Allen, Holiday, and Shamet all changed teams this offseason, while Brown and Carter did so at the 2021 trade deadline. Extensions for players who are new to a franchise are typically less frequent, since teams are often reluctant to make long-term commitments to players who haven't been in their system for years and, in some cases, have yet to play a single game for their new teams.
Of those five players, Carter and Shamet might be the best candidate for new deals. Carter was a centerpiece of last season's Nikola Vucevic trade and the Magic got a good look at him down the stretch. Shamet, meanwhile, is a player the Suns has been targeting for a while, though the team will probably prioritize extensions for Ayton and Bridges.
As for DiVincenzo and Simons, I put them in this category because I think their teams like them but might prefer to wait before signing them to multiyear contracts. DiVincenzo is coming off a foot injury that sidelined him for the Bucks' playoff run, while Simons is taking on a new role under Trail Blazers head coach Chauncey Billups.
Unlikely extension candidates
Perhaps there's a deal to be made here if any one of these four players is willing to take a very team-friendly extension. But at this point, I wouldn't view any of them as a lock to receive even a qualifying offer in 2022 free agency, let alone a multiyear contract offer.
Barring a major surprise, Bagley, Bamba, Knox, and Okogie will have to prove on the court this season that they're worth investing in going forward.