Veteran guard Gerald Green has retired from the NBA as a player and will be joining the Rockets as a player development coach, the team announced (Twitter link).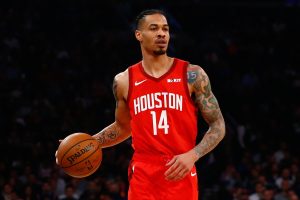 Green, who played 12 seasons in the NBA, worked out for the Rockets last month, but wasn't picked up by the rebuilding team. He joined the Rockets for the 2020/21 preseason, but was waived before the season started due to cap constraints. He suffered a broken foot in October of 2019 and missed the entire 2019/20 season because of the injury. The last time he played in regular season games was in 2018/19, when he was a rotation player for the Rockets.
The 18th pick of the 2005 draft, Green played in 658 NBA games during his 12 seasons, holding career averages of 9.7 points, 2.5 rebounds, and 0.9 assists in 19.8 minutes per game, with a shooting slash line of .417/.361/.818.
Arguably his best individual season came in 2013/14 with Phoenix, when he played all 82 games (48 starts) and averaged 15.8 points, 3.4 rebounds, and 1.5 assists in 28.4 minutes per game, with a shooting line of .445/.400/.848.
The Houston native played for eight teams over the course of his career: the Celtics, Timberwolves, Mavericks, Nets, Pacers, Suns, Heat, and Rockets. He had two separate stints with both the Celtics and Rockets.
An amazing athlete, Green was one of the best dunkers the NBA has ever seen. He was the champion of the 2007 Slam Dunk Contest and runner-up in 2008. He also developed into a strong, albeit streaky, three-point shooter in the latter portion of his career, playing important minutes in Houston's run to the Western Conference Finals in 2017/18.