NBA G League teams have no shortage of ways to stock their rosters. They can retain players' returning rights, add players through the G League draft, acquire players via waivers, take on affiliate players from NBA training camps, sign players they find in preseason tryout camps, and carry players on two-way contracts. Yet perhaps the most noteworthy players to pass through the G League come via NBA assignment.
The players assigned to the G League by NBA teams aren't quite like other G-Leaguers. NBA players receive their full NBA salaries while on G League assignment, whereas a G League player without an NBA contract receives far more modest annual earnings that currently top out at about $37K.
A G League assignment could technically come at a financial cost for an NBA player, since performance in the NBAGL doesn't count toward any incentive clauses built into an NBA contract. So if a player heads down to the G League on a rehab assignment and plays in a couple games for his NBA club's affiliate, none of the numbers he puts up during that assignment would count toward the performance incentives built into his contract.
Of course, generally speaking, only longer-tenured veteran NBA players have incentives in their contracts, and most of those players won't be assigned to the G League. Virtually all of the NBA players assigned to the G League have fewer than three full years of experience, since players in their first, second or third NBA seasons are the only ones whom NBA teams can unilaterally send down to the G League.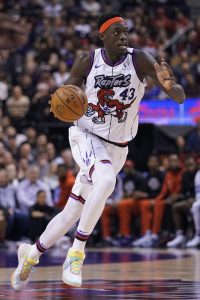 A player with at least three full seasons under his belt can be assigned to the G League, but it requires the player's consent and a sign-off from the players' union. Most of the time, these assignments are for injury rehab purposes, like when the Raptors sent Pascal Siakam to the Raptors 905 while he was working his way back from shoulder surgery.
Occasionally, a healthy player with at least three years of experience will approve a G League assignment. Another Raptors forward, Isaac Bonga – who is in his fourth NBA season – accepted a recent assignment to the Raptors 905 since he wasn't part of Toronto's rotation and wanted to get some game reps.
Once a player has been assigned to the G League, he can remain there indefinitely, and lengthy stints aren't uncommon. However, since there's no limit to the number of times an NBA team can assign and recall a player, assignments can also be very brief, particularly now that many teams are in close geographical proximity to their G League affiliates. There have even been instances in which a player suits up for an NBAGL team earlier in the day, then is recalled to play for his NBA club later that night.
A total of 26 teams own their G League affiliates outright, while two others (the Rockets and Nuggets) operate the basketball operations of their affiliates in "hybrid" partnerships with local ownership groups. Teams that have these arrangements can set up a unified system in which the G League club runs the same offensive and defensive schemes as its parent club, and coaches dole out playing time based on what's best for the NBA franchise.
Only two NBA teams – the Trail Blazers and Suns – don't have a G League affiliate of their own in 2021/22. However, those teams can still assign players to the G League via the "flexible assignment" rule. If, for instance, the Blazers want to send rookie Greg Brown to the G League, NBAGL teams can volunteer to accept him. Portland can choose from those clubs if there are multiple volunteers, but if no G League team raises its hand, the NBAGL will randomly choose one of its hybrid affiliate teams to accept Brown.
Only players on standard NBA contracts can be assigned to the G League and recalled to the NBA — while players on two-way contracts can also be shuttled back and forth between the two leagues, those moves are referred to as "transfers," rather than assignments or recalls.
Note: This is a Hoops Rumors Glossary entry. Our glossary posts will explain specific rules relating to trades, free agency, or other aspects of the NBA's Collective Bargaining Agreement. Larry Coon's Salary Cap FAQ was used in the creation of this post.
Earlier versions of this post were published by Luke Adams and Chuck Myron, most recently in 2017.