The Knicks are removing point guard Kemba Walker from both the starting lineup and their regular rotation, head coach Tom Thibodeau told reporters on Monday (Twitter link via Fred Katz of The Athletic).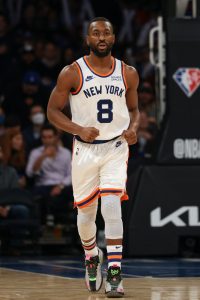 It's unclear whether the change will be a short-term or long-term move, but Thibodeau said Walker is out of the rotation "as of right now." Alec Burks will take over as the team's starting point guard for the foreseeable future, according to Thibs (Twitter link via Stefan Bondy of The New York Daily News).
The Knicks' signing of Walker to a two-year, $18MM deal in the offseason after he was bought out by Oklahoma City was viewed as one of the summer's highest-upside deals. After all, Walker had been a maximum-salary player and wasn't far removed from making four consecutive All-Star teams.
However, while Walker's .413 3PT% to date is a career high, he has failed to recapture his All-Star form, averaging a modest 11.7 PPG and 3.1 APG in 18 games (24.5 MPG). The 31-year-old, who has battled knee issues in recent years, has had his minutes managed for health reasons and has been a liability on the defensive end.
The Knicks have a 116.3 defensive rating and a -13.3 net rating with Walker on the court, compared to a 99.0 defensive rating and +11.2 net rating when he sits. Kemba isn't the only New York starter who has struggled and isn't entirely to blame for those numbers, but given how well Burks has played this season, a change at point guard made sense for the club.
Having signed a new three-year, $30MM contract with the Knicks in the offseason, Burks has averaged 10.5 PPG on .426/.451/.800 shooting in 20 games (22.3 MPG) so far in 2021/22 and has been a more reliable presence on defense. The team has a +5.2 net rating in his minutes.