DECEMBER 1: Porter underwent lumbar spine surgery on Wednesday at the Carrell Clinic in Dallas, the team announced in a press release. He has been ruled out indefinitely.
---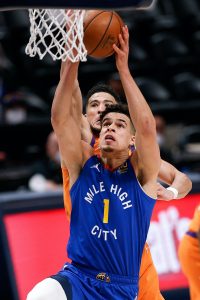 NOVEMBER 29: Nuggets forward Michael Porter Jr. is undergoing surgery on his lower back and will be ruled out indefinitely, agent Mark Bartelstein tells Adrian Wojnarowski of ESPN (Twitter links). The procedure is expected to take place on Wednesday.
While Wojnarowski says a timeline for Porter's return will be determined after the surgery, Shams Charania of The Athletic (Twitter link) reports that the 23-year-old is expected to miss the rest of the 2021/22 season.
A recent report indicated that Porter, who is dealing with a nerve issue in his back, wanted to avoid going under the knife again. However, Charania says Porter and the team ultimately decided to take a "big-picture approach" to his health, with the young forward's five-year, maximum-salary extension set to go into effect in 2022/23.
Porter previously underwent two surgeries on his back — one during his first and only college season, and the other prior to his rookie season in 2018, which delayed his NBA debut by a year.
Those back issues caused his draft stock to drop, allowing the Nuggets to nab him with the No. 14 overall pick in '18. Denver appeared to be reaping the benefits of rolling the dice on Porter when he enjoyed a breakout season in 2020/21, averaging 19.0 PPG and 7.3 RPG on .542/.445/.791 shooting in 61 games (31.3 MPG).
However, MPJ battled back pain in his first nine games this season before the injury forced him to the sidelines — he posted just 9.9 PPG and 6.6 RPG on .359/.308/.556 shooting in 29.4 minutes per contest. Having already invested significant money in the former Missouri Tiger, the Nuggets will be counting on him to make a full recovery, and the expectation is that will happen, according to Wojnarowski.
The injury-plagued Nuggets will now be without three key players for the foreseeable future. Jamal Murray continues to recover from a torn ACL he suffered in the spring, while PJ Dozier recently sustained a torn ACL of his own. Nikola Jokic has also recently missed time with a wrist ailment, though he's expected to return to action soon.
Denver will likely apply for a disabled player exception in the wake of Porter's surgery. As Bobby Marks of ESPN notes (via Twitter), a DPE would be worth about $2.6MM (half of Porter's 2021/22 salary) and the Nuggets are only currently about $1.9MM below the tax line, without an open roster spot, so its usefulness would be limited.