Veteran forward Chandler Parsons has retired from basketball, tweets Shams Charania of The Athletic. Parsons published an Instagram post today stating that he's "excited for the next chapter of [his] life."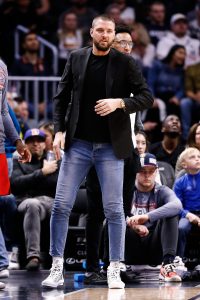 "My entire life all I wanted to be was an NBA player," Parsons wrote. "I didn't even realize, or think what came with that, I just wanted to compete and play basketball at the highest level. I can proudly say, I did THAT!
"It wasn't perfect, but it was a blast and I want to take a moment to thank every single person who helped me reach my dreams. My family, my friends, my AAU and high school program, University of Florida, thank you for preparing me and getting me ready for the journey. To the Rockets, Mavericks, Grizzlies and Hawks, thank you for believing in me and giving me an opportunity to live my dreams. To all the staff, trainers, doctors, coaches, teammates, agents, and most important the fans who supported me, THANK YOU."
Parsons, who is 33, was the 38th overall pick in the 2011 draft. He appeared in a total of 440 regular season games for Houston, Dallas, Memphis, and Atlanta from 2011-20, averaging 12.7 PPG, 4.5 RPG, and 2.7 APG on .462/.373/.713 shooting in 30.1 minutes per contest. He only saw action in 13 postseason contests, but played a key role for the Rockets and Mavericks in those games, putting up 18.1 PPG and 6.6 RPG on .437/.363/.690 shooting in 40.4 MPG.
Parsons' best seasons came in Houston and Dallas from 2012-16 before he signed a four-year, $94MM+ contract with the Grizzlies during the 2016 offseason. Injuries subsequently derailed his career, as he appeared in just 95 total games across three seasons with Memphis.
Bad health luck continued to plague Parsons after he was traded to Atlanta — he was involved in a serious car accident in January 2020. The Hawks initially announced he had been diagnosed with a concussion and whiplash and Parsons' lawyers later issued a statement indicating that the forward had suffered additional injuries in the accident, including disc herniation and a torn labrum.
Those injuries ultimately led to the early end of Parsons' career, according to Charania, who says a lawsuit the 33-year-old filed in response as a result of that accident has been settled for a "substantial amount."
It's an unfortunate final chapter for Parsons' playing days, but his statement on Instagram makes it sound as if he's at peace with his decision to retire.
"It's been a crazy last couple years and has put a lot of things in perspective," Parsons wrote. "I've had so many ups and downs and thankful for every single one of them."