Warriors guard Klay Thompson has confirmed rumors that he will return to the court for Sunday's home game against the Cavaliers, tweets Shams Charania of The Athletic.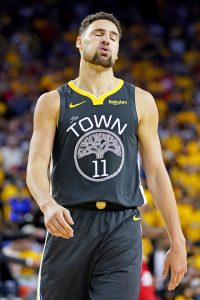 Thompson made the announcement on his Instagram account, along with a clip from the original "Space Jam" movie with Bill Murray saying, "Perhaps I could be of some assistance." Thompson also wrote, "How I'm pulling up to chase tomorrow, Bill Murray is my spirit animal. IM SO EXCITED TO SEE YALL."
It will be the first game action for Thompson since he suffered a torn ACL in the 2019 NBA Finals. He also tore his Achilles during the summer of 2020 and missed all of last season. Sunday will mark 941 days since Thompson's last game, Charania notes.
Thompson has reportedly been ready to return for some time, but the organization was being careful to make sure he was fully 100%. He was also determined to make his season debut in front of Warriors fans, and Golden State played its last two games on the road.
A five-time All-Star, Thompson was part of the foundation of the Warriors teams that won three titles and appeared in five straight NBA Finals. In his last season before the injuries, he averaged 21.5 points, 3.8 rebounds and 2.4 assists per game while shooting 46.7% from the field and 40.2% from three-point range.
Golden State, which has the league's second-best record at 29-9, plans to insert Thompson back into the starting lineup right away, although he will be on a minutes restriction for a while.